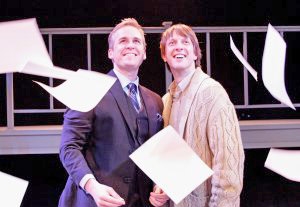 Neil Bartram and Brian Hill's 2009 chamber musical is a poignant two-hander exploring the joys and disappointments of a long-term friendship. Simplicity is the hallmark of this delicate gem, which premiered last year on Broadway. Director Nick DeGruccio and gifted actor-singers Robert J. Townsend and Chad Borden tap into the understated emotional power of this lovely work, offering a captivating 90 minutes of humor, heartbreak, and musical pleasures. Bartram's music and lyrics suggest a strong Sondheim influence, yet they seem perfectly suited to this narrative—recounting miniature stories in song and revealing much about the characters. The episodic segments move toward a profoundly effective conclusion.
Hill's libretto begins at the funeral of Alvin Kelby (Borden). Thomas Weaver (Townsend), a highly successful author and Alvin's friend since first grade, is struggling to compose the eulogy. Alvin's spiritual essence appears, attempting to help his friend gather his recollections. The story shifts back and forth between this metaphysical meeting at the funeral and the men's experiences together over the years. Suggestions of homoeroticism are right beneath the surface, but the play's exploration of the growth of unconditional love transcends physical attraction. It's a story about loyalty and sacrifice and the extent to which humans will share these qualities with people they care about. At some point, the upwardly mobile Thomas reached new heights in his life and left his eccentric pal behind. It's no wonder he's suffering writer's block in composing Alvin's eulogy. A huge chapter in their life is missing.
Borden is endearing and amusing as a loopy 6-year-old kid coping with the loss of his mother by wearing her robe; and he's irresistible when singing the praises of an inspirational grammar-school teacher in "Mrs. Remington." His unfixable weirdness is the subject of Thomas' song "Normal," wryly delivered by Townsend. This performer boasts a splendid voice, using it to maximum effect in the soaring ballad "The Butterfly."
Michael Paternostro's music direction is sublime, and the smart design elements (Tom Buderwitz's set, Steven Young's lighting, Drew Dalzell's sound) enhance this deeply moving piece.
Presented by Havok Theatre Company at the Lillian Theatre, 6322 Santa Monica Blvd., Hollywood. Feb. 26-April 4. Thu.-Sat., 8 p.m.; Sun., 3 p.m. (818) 505-1875. www.havoktheatre.com.