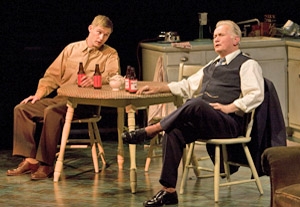 Though Frank D. Gilroy's 1964 play won a Tony and a Pulitzer Prize, it is seldom revived. Viewing the Mark Taper Forum's tasteful, well-acted revisit to the vintage work offers clues to its relative obscurity. A family-dysfunction play that premiered two years after the debut of the watershed drama "Who's Afraid of Virginia Woolf?," it was almost old-fashioned from its inception. Yet traditional dramatic styles needn't be considered obsolete. The play's subtlety is admirable, imparting an understated sensibility that seems rooted in solid dramatic styles of the 1950s. There are many rewards to be gleaned from this achingly poignant portrait of a family in turmoil, and director Neil Pepe has elicited finely nuanced work from his three-member ensemble.
The big curiosity factor surrounding this production is Martin Sheen's return to the vehicle that launched his ascent to fame. Originally playing the son, Timmy Cleary, who returns home to the Bronx in 1946, following military duty, Sheen appeared in the 1964 Broadway run and the 1968 film version. Now taking the role of hard-edged patriarch John Cleary, Sheen achieves a rich and sensitive performance. As the key instigator in family conflicts, John is a man who carries pent-up resentments just beneath his skin. His disappointments with his wife and son are often expressed in roundabout ways but are nonetheless devastating. His own failings are the hardest for him to face, of course, and Sheen tellingly depicts the suppressed guilt and anguish behind John's bluster.
As John's ostensibly submissive wife, Nettie, Frances Conroy masterfully conveys the tension behind even the most ordinary encounters, speaking with a forced cheerfulness, as in her eagerness to please Timmy by preparing his favorite breakfast on his first morning home. Eventually, her subtly manipulative qualities surface, shedding light on Nettie's survival instincts amid the familial warfare.
In the early scenes, Brian Geraghty plays Timmy as a cockeyed optimist of sorts, sidestepping potential minefields in the family's small talk. Timmy matured during his Army stint but isn't quite prepared to be a pawn in his parents' power struggles. Geraghty gives a well-rounded characterization, illuminating the no-win situation that Timmy finds himself in.
The design elements—Walt Spangler's set, Laura Bauer's costumes, Rui Rita's lighting, Cricket S. Myers' sound, and Obadiah Eaves' original music—give this kitchen-sink drama an aura of crisp authenticity.
Presented by Center Theatre Group at the Mark Taper Forum, 135 N. Grand Ave., L.A. Feb. 21–March 21. Tue.–Fri., 8 p.m.; Sat., 2:30 and 8 p.m.; Sun., 1 and 6:30 p.m. (Dark Sun., March 7.) (213) 628-2772. www.centertheatregroup.org.