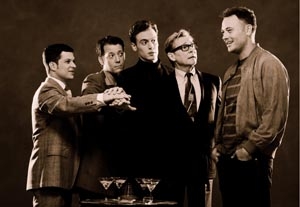 Jon Marans' docudrama "The Temperamentals" offers a remarkably evocative portrait of the urban homosexual subculture in Eisenhower-era America. This eloquent 2009 play makes its West Coast debut under the inspired direction of Michael Matthews, who guides an accomplished ensemble. Marans' informative, moving, and richly amusing work is given its full due here. The play brilliantly dramatizes a lesser-known chapter in the ongoing struggle for gay rights, one that long preceded the 1969 Stonewall riots and Harvey Milk's advances during the 1970s.
The narrative begins in a Los Angeles restaurant in 1950, where middle-aged Harry Hay (Dennis Christopher), a British-bred Communist, and 29-year-old Viennese costume designer Rudi Gernreich (Erich Bergen) dine and flirt. Harry reveals that he has drafted the manifesto for an organization called the Mattachine Society, aimed at planting early seeds of gay activism. The couple's love affair—challenged by Rudi's Hollywood career demands—plays out alongside a colorful depiction of their attempts to forge political inroads in collaboration with three associate members (beautifully played by Mark Shunock, John Tartaglia, and Patrick Scott Lewis, who also appear in other roles). The script incisively illuminates the hazards of being openly gay during these times, as individuality was cloaked by generic business attire and stuffy behavioral codes. "Who says a stone can only have one true color?" asks the erudite Rudi.
Matthews fastidiously dovetails the design elements into a stylish reflection of the time and place. Christopher deftly illuminates the journey of a philandering family man who becomes a scarf-adorned member of a determinedly "out" social set. It's a splendidly layered portrayal, enriched with credible contradictions of human nature. Bergen is exemplary as the charming sophisticate Rudi, maximizing the dialogue's sharp humor. Lewis is at his best playing courageous Dale Jennings, a former police officer fighting sexual-solicitation charges. Tartaglia is flippantly funny as campy Southern cutup Bob Hull, the lover of Chuck Rowland (adeptly played by Shunock, who's also superb portraying closeted film director Vincente Minnelli).
The title, referencing a term used by Mattachine members to connote their homosexuality, epitomizes this play's invigorating blend of priceless historical tidbits and scintillatingly ironic wit.
Presented by the Blank Theatre Company at the 2nd Stage Theatre, 6500 Santa Monica Blvd., Hollywood. April 16–May 22. Thu.–Sat., 8 p.m.; Sun., 2 p.m. (323) 661-9827 or www.theblank.com.