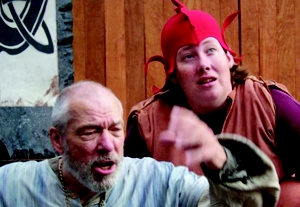 Despite its provenance being attributed to multiple and varied sources, "The Tragedie of King Lear" has long been considered a Shakespeare masterpiece, its title role prized by the greatest actors of each generation of the last four centuries. Thomas Bradac's under-the-stars staging delivers the script's fair share of laughs, helping relieve the tragic proportions of the story and its many ill-fated characters.
Bradac's casting goes a long way in realizing the script's intentions. It can't be said Dennis Krausnick's take on the aging monarch is titanic. More accurately, his is a multifaceted performance that recognizes the role's complexity. Perpetually headstrong, foolish, and physically frail, Krausnick's Lear ranges from vanity and petulance to horror over his colossal misjudgment of all three daughters, from unbridled rage and grief to merry buffoonery born of the king's flirtations with insanity.
Evelyn Carol Case, Kim Shively, and Marissa Pistone deliver nicely varied takes on Lear's daughters. Case's Goneril shows a firstborn's inherent sense of entitlement. Shively's Regan is more conniving and manipulative. Both display the ingratitude that puts Lear back on his heels. Serpent's tooth indeed! Pistone's Cordelia is a sensible young woman who sees no reason to gild the lily on any subject. It's easy to picture her adapting with ease to a life without Lear had the two not reconciled.
Ryan Shively's Edmund is a cold-blooded, murderous opportunist. As the Earl of Gloucester, Michael Nehring is as misled as Lear, tricked into thinking bastard son Edmund has his best interests at heart while regarding legitimate son Edgar (Shaun Anthony) as an ingrate. For his part, Anthony's reading of Edgar is as wide-ranging as Krausnick's in the lead. Alyssa Bradac, Jack Messenger, Carl Reggiardo, Jeremy Schaeg, and Greg Ungar also offer fine work, and the various design elements reflect the primitive nature of the story's dreary setting of pre-Christian Britain.
Presented by Shakespeare Orange County at the Festival Amphitheatre, 12740 Main St., Garden Grove. Sept. 2–18. Thu.–Sat., 8:15 p.m. (714) 590-1575. www.shakespeareoc.org.