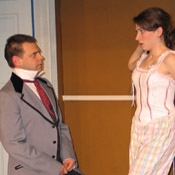 Attributed to British actor Donald Wolfit, among others, is the well-known axiom, "Dying is easy, comedy is hard." Given the number of fingers left on one hand after counting the few laughs this production elicited on the night reviewed, the wisdom of Wolfit's alleged deathbed remark is astonishingly keen. Director Erin Cathleen and an almost universally disappointing cast run roughshod over playwright Steve Martin's ribald farce, itself an adaptation of Carl Sternheim's play Die Hose. The result is a mile-wide swath of squandered comedic opportunities left floating in their wake.
The plot, simplistic at best, recounts the sexual awakening of Louise Maske, a shy young housewife, played unremarkably by Amanda Jaros. Quite by accident, Louise literally drops her drawers while attending a royal parade in 1910 Dusseldorf, garnering the attention of various suitors as the play progresses. Unfortunately, this opening scene is rushed and muddled, a gaffe from which the production never recovers. Most egregious among the company are Tracy Casadio as a nosey upstairs neighbor and Colin Kramer's take on an Italian lothario. Both rip indecipherably through their dialogue with nary a perception of properly setting up and executing punch lines.
Eric Rummel's arrival as a Jewish lodger fares only slightly better, if for no other reason than that he can be understood. Cameo appearances by Barry Schwam as some sort of repressed old man and Richard Leppig as the aforementioned King are painfully clumsy. Only James Jaeger, playing Louise's bureaucratic, slightly older husband, Theo, offers a three-dimensional characterization and an awareness of the style required to pull off this piece. He infuses his role with precision and an innate sense of comic timing that begs for a better vehicle in which to display his talent.
The Maske household is customized quite nicely by set designer David Calhoun, with the exception of a rather confined primary entrance. Actors, seemingly oblivious to one another, make terribly confusing overlapped entrances and exits. Meanwhile, offstage stomping, intended perhaps to telegraph characters' arrivals and departures, is, like the vast majority of this production, amateurish.
Presented by and at the Sierra Madre Playhouse,
87 W. Sierra Madre Blvd., Sierra Madre.
Fri.-Sat. 8 p.m., Sun. 2:30 p.m. (Dark Mar. 9, 23, 30.) Mar. 7-Apr. 19.
(626) 256-3809. www.sierramadreplayhouse.org.