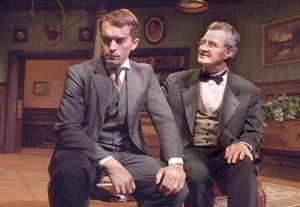 The story is timely, although it probably always has been. The rich get richer—by their indifference or their scheming—and in this case they also have the babies. In the very wealthy, very large Voysey family of Edwardian England, papa has been fudging the books in his investment company. The righteousness lives on in his upper lip, however.
David Mamet has adapted Harley Granville-Barker's five-acter into this relatively compact two-act play, cutting very minor characters, tidying the turns of phrases, and giving it a possibly happy ending. Directed by Bruce Gray, this production is handsome, it moves along, and someone cast the Voysey brothers with an eye toward familial resemblances. Missing are something in the way of undercurrents and a point of view. All the family members, even at times the restituting son Edward, are living in a bland state, neither self-aware nor self-deluded nor deliberately disinterested in the harm their family business has caused.
Alec Beard portrays young Edward. Given the one note imposed on his character throughout the play, Beard at least sings it pitch-perfectly. He broods, he ponders, he hangs his head in the British upper-class version of shame. Debbie Jaffe is period perfect in her sturdy portrayal of Edward's friend Alice; she not only looks wonderful but also walks well in her superb daytime suits, designed by costumer Suzanne Scott. Other of the actors belie the program credit for dialect coach Stuart Galbraith, unless one of the children was adopted from a life as a street urchin. A strong scene among the four brothers (Beard, Jaymes Wheeler, Jon Woodward Kirby, and Milan Cronovich) is a centerpiece of enjoyment here, as is Jeff G. Rack's massive set, lit for nostalgia and coziness by Jeremy Pivnick.
Presented by Theatre 40 at the Reuben Cordova Theatre, 241 Moreno Dr., Beverly Hills.
June 24–July 19. Wed.–Sat., 8 p.m.; Sun., 2 p.m.
(310) 364-0535 or www.theatre40.org.