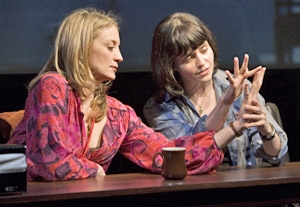 In Lisa Kron's world-premiere work, the playwright poses intriguing questions of global urgency, dovetailing her themes with a tragic story of one woman's fall from grace. Kron sets out to demonstrate how privileged citizens who fancy themselves die-hard humanists in their political leanings can overlook key components of a complex social picture. Kron's play is intelligent and affecting, but it sometimes loses focus when belaboring its points.
Setting the story during the George W. Bush presidential administration—covering 2002–07, including the contested first election, the Sept. 11 atrocity, the Iraq War, and more, depicted via projected newscast clips—Kron enables her characters to pontificate on their adamant views of the events. Unfortunately, the prolonged debates about these issues and others often bring the narrative to a halt.
The focal character is control freak Ellen (Heidi Schreck), an outspoken political writer who resides in an East Village apartment in New York with her boyfriend, Danny (Carson Elrod), a schoolteacher. The couple spends a lot of time with their neighbors: Danny's lesbian sister, Kayla (Andrea Frankle); and her lover, Laurie (Danielle Skraastad). Houseguests include Ellen's elder friend Judy (Dierdre O'Connell), who volunteers her time as an international humanitarian worker, and Tessa (Miriam F. Glover), Judy's teenage niece from a broken home. Amy (Emily Donahoe), a pivotal character, is an experimental filmmaker who has a lesbian affair with Ellen, prompting Ellen to re-examine her relationship with Danny. The political and the personal merge for Ellen when she realizes she has been deceiving herself emotionally and in her utopian sociopolitical views. Kron explodes the complacent myth that everything is—and always will be—all right for the U.S., despite our nation's ever-escalating challenges. Ellen's personal wakeup call elicits chilling implications on a much broader scale.
Director Leigh Silverman, aided by a superb design team, creates a potent and lively milieu for this thoughtful seriocomedy to play out. Schreck does exemplary work as the well-meaning but highly flawed protagonist. O'Connell stands out as Ellen's wise and compassionate yet disillusioned friend. Elrod brings spry comic relief as the spirited wannabe husband. Frankle, Skraastad, Donahoe, and Glover lend excellent support. If Kron judiciously cut a half-hour of dialogue, her ambitious play could be more cohesive and infinitely more powerful.
Presented by Center Theatre Group in association with Berkeley Repertory Theatre at the Kirk Douglas Theatre, 9820 Washington Blvd., Culver City. March 28–April 18. Tue.–Fri., 8 p.m.; Sat., 2 and 8 p.m.; Sun. 1 and 6:30 p.m. (213) 628-2772. www.centertheatregroup.org.