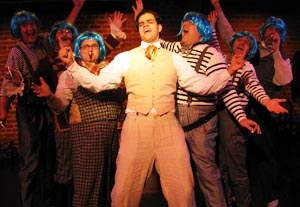 Because critics love to, um, criticize, let's leap right in. This production offers so much to its audience that it's impossible to catch everything. If we focus on the hilarious choreography, we miss the witty lyrics. If we try to follow the plot, we miss the naughty bits in the costuming. Well, the worst we can say about this production is that it must be seen more than once to get its full flavor.
Writer-director Meryl Friedman has melded the crux of Aristophanes'
The Wasps
with a sharp salute to vaudeville in which a troupe of actors tries to put on the show. The characters warn us at the top of the play, "The jokes are so old, they're prehistoric." They continue to make us laugh, though, delivered expertly by the cast—from visuals such as rubber chickens and unwieldy reams of paper to jokes about walking into a bar. Friedman's score of cheery tunes and whimsical lyrics is enhanced by music director David O's considerable skills on piano, kazoo, and slide whistle—not to mention his vocal work as an annoying female telephone caller. Choreography well suits the tone and the actors' abilities. But the unexpected delights of this show are the pleasing voices and stirring harmonies of the septet of veteran actors. Well, mostly veterans. We would have paid many drachmas to sit in on rehearsals and watch the six senior talents as they brought along the seventh, who plays Sonny Boy.
As the landowning Old Man, Peter Van Norden effortlessly tosses off business and dialogue, thanks to his deep skills set. John Apicella as the banjo-playing juror (oh, yes, he strums) is a live wire of comedic shtick. Hubert Hodgin, the "very tall juror," craftily plays the comedy with all due seriousness. Steve Totland plays the "juror with an accent" using a sweetly goofy accent of indeterminate origin. As the Chorus Leader, Mark Doerr wrangles the wayward "actors" playing these parts and yet adds his own zaniness at every turn. Robert Alan Beuth pulls out all stops as the slave who is rightfully irked at losing his solo number, rightfully bemused at being saddled with the role of the dog in the trial. The newcomer to the business, but apparently well-schooled in the rich tradition of very old comedy bits, Albert Meijer sings, dances, and portrays Sonny Boy with, literally, the best of them.
Presented by Singer Productions Inc. at the Lost Studio Theatre, 130 S. La Brea Ave., L.A. June 20–July 26. Fri.–Sat., 8 p.m.; Sun. 3 p.m. (800) 838-3006. www.thewasps.net.