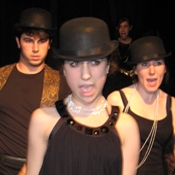 Honey, you haven't lived until you've witnessed a 10-year-old in a sophisticated little black dress, singing, "Sometimes your dreams get broken in pieces." I'm assuming this is the doing of director-choreographer Cindy Robinson, as it seems unlikely that the Kander and Ebb folks ever developed or approved a children's version of this revue. One wants to applaud the ambition, but conceptually the notion of having teens and preteens croon tunes that assume one has traversed the block a few times, and not on the way to soccer practice, is somewhat disturbing.
Granted, the celebration of midday infidelity "Arthur in the Afternoon" has been cut, but it seems so token a gesture once a very young lady has enticed us to delights both libidinous and libational in "All That Jazz," not to mention that when a group of singers in this demographic takes the stage with a half-dozen bassinets to sing "Me and My Baby," it reads as a commercial about teen pregnancy.
This is not, overall, a terribly confident group of singers, but some of the performers have the cords, character, and/or maturity to soldier through regardless. The slightly built Ian Wexler, with his perpetually doleful countenance, nails the "Mr. Cellophane" number and impresses on the big notes. There is also a fine performer in Hannah Inez, who, though somewhat insecure vocally, has mastered the skill of standing still and simply letting the song sell itself; she nicely handles both the brash and the bluesy in "How Lucky Can You Get." There's an inadvertent comic moment during "Rink" when it becomes apparent we're not dealing with real skaters, but Gabe Greenspan proves an adept, off-the-cuff comic, and the choral work by him, Wexler, and Max Epstein is smooth. Another lovely moment is the rendering of "There Goes the Ball Game" by Jenny Kaplan, Rachel Keller, and Gaby Ritter. Perhaps the most consistent number is "Ring Them Bells," performed with character, style, and verve by Katie McKewin.
There is no credit for proficient music direction, but I'll wager accompanist Richard Berent had a hand. This is an undeniably talented cast, but in a show like this it's almost more uncomfortable when they sound as if they know what they're talking about than when they don't.
Presented by Children's Theatre Group of Southern California at the Eclectic Company Theatre,
5312 Laurel Canyon Blvd., North Hollywood.
Fri.-Sat. 8 p.m., Sun. 2 p.m. Feb. 22-Mar. 16.
(818) 508-3003. www.eclecticcompanytheatre.org.