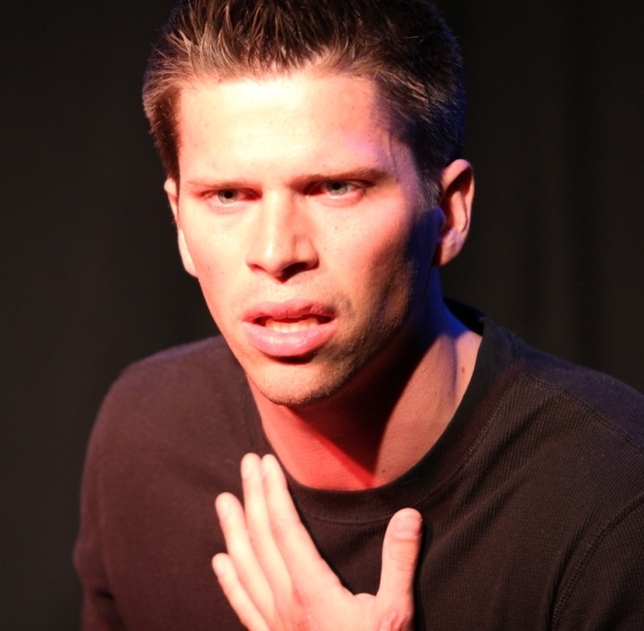 There are definitely expectations going into Ben Moroski's autobiographical solo show. Raw, edgy expectations, because "This Vicious Minute"—which Moroski developed with Nick Massouh, a wellness life coach—doesn't try to hide the fact that it deals with the writer-performer as a cutter, a "self-mutilator." Moroski's scarred torso is on the program cover, and the moody black-and-white photo shows him holding a razor blade. What we don't expect is the buff, healthy-looking all-American 20-something who takes the stage. Whatever preconceptions we had about troubled kids who cut themselves are immediately thrown out the window. This smiling young man is able to guide us into the dark side of his otherwise sunny world in a surprising way that catches us off-guard and makes his journey all the more fascinating, because we're not afraid to go with him.
With a wry humor that effectively leavens even the most difficult stories, Moroski tells us that he first entertained thoughts of self-harm at a place that provides the seeds for so many of life's disturbances: Bible summer camp. We hear about his devout Christian upbringing, being the golden boy in high school, finding love in college, and his subsequent success as a young apprentice actor, all the while practicing his "habit" of cutting. We also get the scoop about his therapists, his family's reaction, and the extreme measures that were necessary to try to stop him when things got really dangerous. But what we mostly witness are his marvelously self-aware descriptions: what it's like to need to hurt himself, what his relationship with his body and blood is, and how his needs manifest themselves. There are moments that are unbearably painful, accented by simple but effective physicality.
Granted, "This Vicious Minute" can get a bit writerly and indulgent. Young love can get old. But lest this sound like Lifetime TV, here's what Moroski has going for him (besides the dark allure of his bloody little secret): He's got an incredible accessibility as performer, a naked honesty that's not threatening or confrontational, even when it's in your face. So for the most part the evening is not at all a confession for shock value. It's an evolving self-discovery that sweeps us up as Moroski shares his story. In doing so, he's trying to come to a genuine understanding. But he knows that he's not there yet—and may never be. It's quite touching to be a part of that.
Presented by David Fofi and Ben Moroski, in association with Elephant Stages, at the Elephant Studio Stage Theatre, 6322 Santa Monica Blvd., L.A. Jan. 25–Feb. 24. (323) 960-7745 or www.plays411.com.
Critic's Score: A-