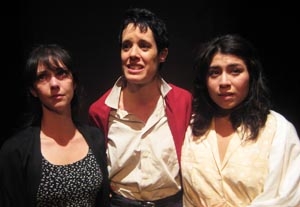 Pavel Cerny returns to a play he directed 35 years ago, though this time he has solidly adapted the 1901 work by Chekhov, updating the setting to the 1980s. It includes references to pop culture—The Beatles, for example—and the social climate surrounding Perestroika. Also, the character of Olga (Noelle Messier) is openly lesbian. But little else has changed. The storyline remains faithful to the original, and Cerny's cast elicits a palpable aura of melancholy.
Messier serves as the anchor, portraying the eldest of the sisters, all of whom wish to return to their childhood home of Moscow for a better life. Messier's somber tone is matched in quiet intensity by Olga Konstantulakis as the middle sister, Masha, and Evelyn Lorena, who portrays the youngest, Irina. The lone source of comic relief is Kelly Kemp, whose whiny delivery and pouting as sister-in-law Natasha earn a few laughs.
And more laughs, or more intensity, are needed in a nearly three-hour production, which suffers from a monotony that may match the script but doesn't work for entertainment purposes. Instead, this "Three Sisters" feels more like an exercise for Chekhov scholars.
Presented by Orpheum Theater Corp. at the Whitefire Theatre, 13500 Ventura Blvd., Sherman Oaks. May 1–June 12. Sun., 3 p.m.; Thu., 8 p.m. (866) 811-4111. www.theatermania.com.