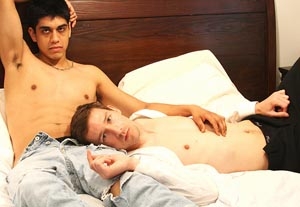 Edwin Sanchez's play is set on NYC's 42nd Street in 1992, before it became sterile, overcrowded, and Disneyfied. The central figure is a cocky volatile Puerto Rican street hustler named Papo (Ramon Camacho). He accidentally encounters Bobby (Elijah Trichon), an adolescent runaway from a mental institution to which he was committed after being caught in flagrante delicto with another boy. When Papo discovers that Bobby is penniless and has no place to stay, he takes him back to his apartment. Once there, the boy clings obsessively to Papo and refuses to leave. Meanwhile, Papo has also picked up a trick, Brian (Stephen Twardokus), an uptight businessman and 28-year-old virgin who's firmly locked in the closet and terrified of being forced out. Though Papo insists that he, himself, is a tough guy, that he's not a faggot and doesn't kiss, he becomes emotionally involved with Bobby and Brian. Brian can give him an entrée into the "white people's world" Papo has never been able to penetrate. But Brian is terrified of Papo, who is too loud, too Latin, and too disreputable to be seen with. This hopeless tangle of relations is fraught with perils and ambiguities and cannot come to good.
The play is an intriguing series of character studies, anatomizing the three desperate young men. Papo can be as ruthless as he is vulnerable; Bobby is a fantasist who dreams of marriage to Papo, complete with house, children and a station wagon; and Brian is reluctantly but powerfully attracted to Papo. The piece is quirky, untidy, and sui generis, with no easily defined moral. It's sensitively directed, by Efrain Schunior, and beautifully acted. Trichon's Bobby is a naive kid, possessive and scarily vulnerable. Camacho eloquently captures Papo's passionate determination and his emotional contradictions. Twardokus creates a powerful image of a frightened man, bound by convention and haplessly trying to resist his own nature.
Presented and at the Celebration Theatre, 7051-B Santa Monica Blvd
.,
Hollywood. May 15
–
June 28. Thu
.–
Sat
.,
8 p.m
.;
Sun
.,
3 p.m
.
(
323
)
957-1884 or www.tix.com
.