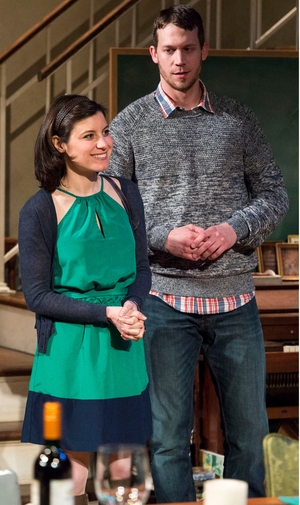 "Tribes," the much-heralded play by Nina Raine, begins in utter cacophony around the dinner table of an artsy, highbrow mess of a British family, whose members roar, pontificate, and overlap one another. Two hours later the play ends with the same clan in gut-wrenchingly beautiful silence. As Mark Medoff did before her, Raine looks to explore the interstices: the spaces between deafness and hearing, family and community, chaos and serenity. A partial remount of Barrow Street Theatre's Off-Broadway production—Lee Roy Rogers and Jeff Still are new to the cast, and the staging is now proscenium rather than in-the-round—"Tribes" is a polarizing play, not because it demands that its audiences take a side but because it doesn't. The hearing members of Billy's family are the way they are (largely insufferable), and deaf Billy is who he is (saintly), thrown gauntlets or otherwise. Thus will it ever be.
Director David Cromer's production at the Mark Taper Forum is carried less by the actor playing Billy (although Russell Harvard has undeniable gifts) than by Susan Pourfar, as Billy's girlfriend, Sylvia, a character whose entrance into Billy's life ignites a powder keg of resentment. Raine may have been looking to tell the tribe's story and not the interloper's, but watching Pourfar work her blend of irony, sadness, humor, and fierce independence into a performance—in English and American Sign Language no less—is witnessing a bit of magic.
Twenty-something Billy returns from college to the family home, where his adult siblings, Daniel (Will Brill) and Ruth (Gayle Rankin), also reside. Dad Christopher (Still) is a blowhard writer and former academic; mom Beth (Rogers) also writes and blows a little less hard. Ruth is a would-be opera singer, while Daniel is a dilettante who hears voices and seems to be slowly going mad. The interplay among this uncomfortably close group—do these people ever leave the house?—makes for some very clever and humorous orchestration on Cromer's part, and Scott Pask's dual-level domicile gets the setting perfectly.
Billy, the outsider, wants more. At a party he meets Sylvia, who is losing her hearing and can both read lips and sign. She's Billy's entrée into the world of the deaf community, a society that his family does not want him entering, having brought him up to believe himself not handicapped. Sylvia sees matters differently—the meet-the-folks scene has prerequisite squirm—but she's also trying to straddle the two worlds, and she wants Billy's kin to like her.
Harvard, a hulking teddy bear of a man, works Billy through an interesting metamorphosis, from onlooker to crusader. Still's loathsome patriarch is the engine driving the conflict. Brill's damaged Daniel goes for the emotional jugular as he descends into madness. Rankin, as the slightly less damaged Ruth, and Rogers, as the maternal Beth, also do solid work.
Some of Daniel Kluger's sound pyrotechnics get a bit intrusive, and when it comes to plot "Tribes" could afford to get out of its own way. Still, the issues remain timely, which counts for a lot.
Presented by Center Theatre Group at Mark Taper Forum, 135 N. Grand Ave., L.A. March 10–April 14. (213) 628-2772 or www.centertheatregroup.org. Casting by McCorkle Casting/Pat McCorkle, Joe Lopick.
Critic's Score: B