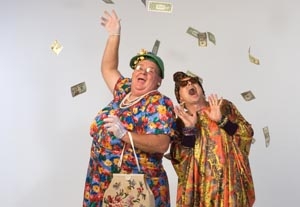 Joe Sears and Jaston Williams have made careers of writing, performing in, and touring a series of shows that put the fictional town of Tuna, Texas, under the microscope. Following the introductory show, another spoofing Independence Day, and a third revolving around Christmas, the duo—along with co-author and director Ed Howard—show us what would happen were the denizens of this tiny burg to hightail it over to Sin City. The results are predictably hilarious, with only a few misfires that will presumably be erased or replaced as the show is honed for its eventual run in Vegas. Like most of the series, this show opens with an early morning broadcast by Arles Struvie (Williams) and Thurston Wheelis (Sears). Once Struvie announces that he and his wife, Bertha (Sears), are headed to Vegas to renew their wedding vows, nearly the entire town finds one reason or another to follow them there.
Sears and Williams take on 11 roles apiece, the most striking of which are women. Neither man spoofs femininity, nor do they vamp like drag queens. Instead, like any good actors, they capture the essence of each role. Tops on this list are Sears' Bertha, Aunt Pearl, and Inita Goodwin. Bertha is a buxom yet constantly fretting nervous Nellie, Pearl is her no-nonsense aunt, and Inita is a dead ringer for John Goodman in a waitress uniform. With Charlene, Vera Carp, and Anna Conda, Williams creates dead-on spoofs of other facets of femininity.
Sears scores with his Joe Bob, a portly stage director who adores musicals, and Shot, the security chief at a seedy Vegas hotel. The plot's common threads are Bertha and Arles, a whiskey-swigging good-old-boy who behaves like a naughty youngster. Whether as competing Elvis impersonators or a raft of other figures, both actors shine, completing quick changes backstage while making it all look effortless.
Presented by McCoy Rigby Entertainment at La Mirada Theatre for the Performing Arts, 14900 La Mirada Blvd
.,
La Mirada
.
April 17
–
May 3. Tue
.–
Thu
.,
7:30 p.m
.;
Fri
.,
8 p.m
.;
Sat
.,
2 and 8 p.m
.;
Sun
.,
2 and 7 p.m
.
(
562
)
944-9801 or www.lamiradatheatre.com