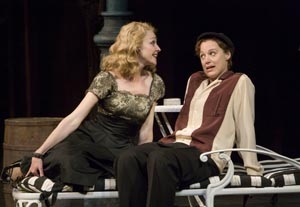 You never quite get how truly brutal Shakespeare is on the pompous, social-climbing sourpuss Malvolio in "Twelfth Night" until you watch a true craftsman like Patrick Page (of Broadway's "The Grinch") ply his trade. The con revealed, Page's Malvolio—who had previously made an unstarched thigh-high-wearing boob of himself in the hopes of winning Olivia—grabs a handful of facial skin, as though he would rip off his own face if he could, and stalks piteously off the stage. His "I'll be revenged" is pure venom, and nobody laughs.
"Twelfth Night" isn't "The Malvolio Show" even if an actor like Page (who is also playing Cyrano in the Globe's summer rep) often makes you wish it were. And as folks are constantly reminding us in this evergreen comedy, love (or hopes of love) makes people do awfully funny things. The romance and the funny are equally at play in the Globe's delightful outdoor staging.
Look at Katie MacNichol's Olivia, the "marble-hearted" countess who swore off men following her brother's death, then proceeds to fall hard for the disguised Viola (played by Dana Green). Once she realizes she's been sucker-punched by love, this Olivia is overtaken with fits of giggles. And her wardrobe (slickly realized by Linda Cho) transforms radically from mourning to come-hither. We get the sense that if Olivia had one more scene before her wedding, Cho might have stuck her in a bikini.
Director Paul Mullins sets the play in the 1950s, but any lingering hint of war seems long in the past. The singing courtiers are harmonizing dock rats, and folks have a tendency to enter by boat—most notably Gerritt VanderMeer's Orsino, who wears Gatsby white and whose watercraft bears the name Olivia (he'll probably need to rub that off by the play's end). VanderMeer largely strips Orsino of any ache or melancholy; the guy seems perfectly happy cruising the seas. It makes us wonder what Green's plucky, and very lovestruck, Viola sees in him.
The comic subplot gets its time to shine as well. Bruce Turk's Sir Andrew Aguecheek, a giant in daffy beachwear, justly earns his laughs, and James Newcomb's Feste has a philosophical air and an endless supply of red clown noses. Olivia's entire household falls into step during a slick midnight mambo just before Malvolio breaks up the party.
For his efforts, poor Mal will end up blindfolded and strapped to a buoy with boat horns blared in his ear and mist sprayed in his face. Yes, indeed, love—and retribution—is a beast. This production, on the other hand, is a blast.
Presented by and at the Old Globe Theatre, 1363 Old Globe Way, San Diego.
June 17–Sept. 26. Repertory schedule.
(619) 234-5623
.
www.theoldglobe.org
.