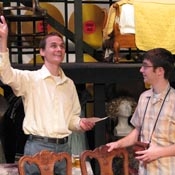 One hopes the Moss Family Singers are a fictional family, or their dysfunction would give God-besotted country music groups a bad name. The family consists of 13 rolling stones, each in some way addicted or afflicted. Several generations of a gold record–winning family bring their long-held beefs to the 75th birthday party of tough-minded Mama Jo Moss (a feisty Helen Richman), which daughter Booth (a conciliatory Maureen Teefy) hopes will bring everyone back together -- and back to Jesus. Mama Jo's on-the-edge daughter, Maggie (a believable Sheila Schmidt), just out of rehab, is not sure she needs this eternally combative family situation. With her is her latest boyfriend, Preacher Luke (a loose Mark Aaron), but it seems Johnny Bill (Edmund Wyson), a bachelor uncle, is the most obliging go-to guy in case of need; ask Mama Jo's niece, Odena (Ruth Macy), who has just completed a missionary tour of Iraq with her husband, Dickie (Craig Pearman), who's much more into that old-time religion than is his dissatisfied wife. And then there's granddaughter Shelley (Wendy Norton), who could be the next country and gospel star when she finishes dealing with her violent husband's (Andrew McGuinness) posttraumatic stress disorder.
With these disparate characters, and three hours to sort them out, writer-director Greg Phillips' play is a huge, overlong jigsaw puzzle of idiosyncratic pieces, most so familiar that we already know them, some so outlandish we wouldn't want to. The best moments of this rather obligatory down-home show are when the Moss "girls," including Mama Dot (Jamie Corbin) and Cleo Moss (Suzanne Altfeld), give us a final (country-costumed) chorus of "Down to the River to Pray." More of this and less of the oh-so-familiar melodrama would be a more pleasing, less cliché package.
Presented by the Phillips Project at the Odyssey Theatre, 2055 S. Sepulveda Blvd., L.A.
Jan. 31–Mar. 1. Thu.–Sat., 7:30 p.m.; Sun., 2 p.m.
(310) 477-2055 or the Odyssey Theatre.