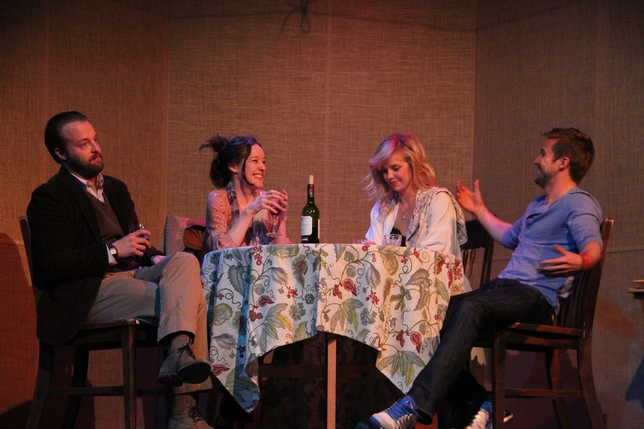 In "Unscreened," four fledgling screenwriters are showcasing their wares with a group of short plays that are to varying degrees innovative, provocative, humorous, and laced with surprises.
"Two Clean Rooms" takes place during the Vietnam War. Jess (Robert Baker), a decorated intelligence officer, is being grilled by another officer for suspected homosexuality. The interrogator, Matt (Nate Corddry), wants the names of other soldiers Jess supposedly knows to be gay. At times the balance shifts as Jess uncovers some of Matt's own uncomfortable secrets. The writing by Will Wissler Graham, who also directs, is tight and to the point, with no wasted words. Graham's direction is so skillful that the characters seem to inhabit an alternate universe. The cast, which also includes Steven Klein as Matt's ambitious assistant, is uniformly excellent. There is something subtly enigmatic in each performance, keeping the audience in a state of high tension. This gem should become a full-length play.
Another standout is "His Girl," by Corinne Kingsbury. A hooker enters a room and lies face down on the bed with her hands behind her back. A man then comes in, gives her specific orders, and tapes her hands and feet. When he turns her over, the two get the shock of their lives. What follows is the airing of a broken family relationship. Kingsbury plumbs the depths of human needs, weaknesses, disillusionments, and resentments with wit, accuracy, and sensitivity. Colin Campbell's direction is smart and expertly paced. Spencer Garrett, as the somewhat self-involved man, goes through a litany of emotions and commits fully to each of them. Lindsey Kraft, as the prostitute, delivers scathing, sarcastic verbal thrusts that elicit laughter but obviously come from a place of deep pain.
Several inventive surprises unfold in "Laura & Sebastian (and Jordan & Bliss)." The play opens soon after Laura (Brooke Bloom) and Sebastian (Joshua Leonard) meet for the first time, in a coffee shop. They have now come to his family's cabin in the Berkshires, but they open the door to a startling scene and realize that they are not alone. Long-held grudges come to the surface as the conservative, dutiful Sebastian confronts his hedonistic, irresponsible brother, Jordan (Michael Stahl-David), over past betrayals. Playwright Daria Polatin, who also directs, deftly explores recognizable family conflicts. Leonard is amusing and likable as the victimized nerd, while Stahl-David is hilariously exasperating as his thoughtless brother. Bloom hits just the right note as the conventional woman who longs for spontaneity. However, Kelli Garner, as Bliss, Jordan's free-spirited lover, is so muted as to be almost inaudible.
The least realized of the quartet is "Tree House Apocalypse," written by Mallory Westfall and directed by Anna Christopher. After a worldwide catastrophe that nearly wipes out the human race, survivors Brandon (Chris Starr) and Alexis (Lindsay Pearce) meet in her childhood tree house. They banter, quarrel, and ultimately separate. Though the premise has potential and some important issues are raised, the dialogue, direction, and performances tend toward the prosaic.
Presented by Black Sheep Management & Productions and Firefly: Theater & Films, in association with Anonymous Content, at the Lillian Theatre, 6322 Santa Monica Blvd., L.A. March 3–24. (800) 838-3006, www.brownpapertickets.com, or www.unscreenedla.com.
Critic's Score: A