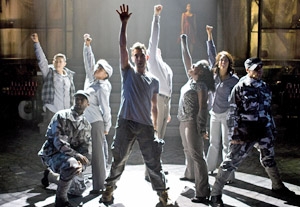 Eric Rosen and Matt Sax's liberal adaptation of Shakespeare's tragedy "Othello, the Moor of Venice" offers an audacious blend of diverse dramaturgic elements: doomsday parable, Greek drama, hip-hop opera, Brechtian epic, and political allegory. Yet the remarkable thing about this enthralling view of moral chaos in the post-9/11 age is how the piece so cohesively marches to its own idiosyncratic beat. The payoff is a profound combination of sly humor, sobering themes, terrific music, and prescient ruminations on social anarchy in a world turning topsy-turvy by endless wars that no one ever understands.
Center Theatre Group's co-production with Kansas City Repertory Theatre, which recently staged this new musical featuring several of the same performers, crackles with energy and wit. Director Rosen, who collaborated with Sax on the book and lyrics (combined with music by Rosen and Curtis Moore), instantly grasps our attention with galvanizing visual and aural panache. The stunning multimedia design (Jason H. Thompson's projections, Meghan Raham's set and costumes, David Weiner's lighting, Joshua Horvath's sound and music production) creates an imaginative universe in which this vaguely futuristic tale of revenge and revolution can cast its visceral and cerebral spell. The rousing and eclectic score—encompassing hip-hop, rap, rock, R&B, and Broadway bombast—is also triumphant, enhancing the dramatic tension and stretching the boundaries of traditional show music, eloquently served by Moore's first-rate music direction, arrangements, and orchestrations.
Introducing us to the tale is a rapping narrator, Clown MC (brilliantly played by Sax), a macabre one-man Greek chorus with a playful touch of Puck. The fictional city of Venice has endured 20 years of military and terrorist attacks from unspecified assailants. A new ruling regime is restoring order to the region, as the relocated group of "disappeared" children of those who died in the battles is returning. Conflicts instantly ensue between Army General Venice Monroe (the sublime Javier Muñoz) and his jealous half-brother Markos (chillingly played by Rodrick Covington)—a villain loosely modeled on Iago—who launches schemes to undermine Venice's efforts and fester continuing war. Markos enlists the help of the embittered Theodore Westbrook (J.D. Goldblatt), a corporate CEO whose father was a war profiteer. Theodore is in love with Venice's fiancée, Willow (Andrea Goss), daughter of the assassinated former president.
Additional characters include Anna Monroe (Uzo Aduba), the ghost of Venice and Markos' mother; Michael Victor (Erich Bergen), newly appointed lieutenant general; Markos' wife, Emilia (Victoria Platt); and local strumpet Hailey Daisy (Angela Wildflower Polk), a pawn in Markos' devious political machinations. Ensemble players include Preston Mui, Donald Webber Jr., and Morgan Weed. Rosen elicits seamless work from the superb company of actor-singer-dancers. Their efforts are enhanced by John Carrafa and Tanisha Scott's thrilling choreography and Steve Rankin's marvelous fight direction.
Though streamlining and fine-tuning are still in order, this watershed work illuminates direly urgent problems in our modern world yet ends on a note of hope. Simultaneously it points the way to thrilling and remarkably fresh artistic directions for musical theater.
Presented by Center Theatre Group and Kansas City Repertory Theatre at the Kirk Douglas Theatre, 9820 Washington Blvd., Culver City. Oct. 17-Nov. 14. Tue.-Fri., 8 p.m.; Sat., 2 and 8 p.m.; Sun., 1 and 6:30 p.m. (213) 628-2772. www.centertheatregroup.