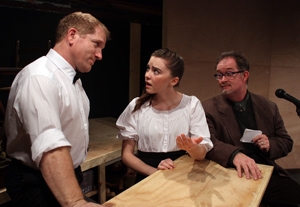 Two distinctly different full-length plays, by two playwrights, run in repertory on the same set. They flourish under the guidance of a single director, Sean Branney, and their juxtaposition results in edge-of-your-seat anticipation. One is a light comedy, the other is definitely darker, and they make for remarkably enjoyable theater.
Novelist-playwright Roddy Doyle's "War" provides a glimpse into the world of Irish quiz nights, when residents of Dublin's Barrytown neighborhood gather at the Hiker's Rest, a pub, for a raucous and gritty trivia game. Branney does a good job maintaining order and audience focus in this often hilariously profane chaos. Tim Cummings gives a tour de force performance as George, a blue-collar tradesman whose team never quite manages to eke out a victory, but every character is an engagingly drawn individual. George's teammates—delightfully played by Donald Agnelli, Andrew Graves, and Kevin Stidham—endure his almost schizophrenic outbursts of joy and anger. Their primary opponents—the team portrayed by Daniel Kaemon, Lance Holt, Erin Noble, and Cameron Oro—annoy and taunt with sidesplitting gusto. Excellent supporting turns are in abundant supply, including Dan Conroy as the bar owner, Alice Ryan as a waitress, Andrew Leman as the long-suffering host, and Kacey Camp as George's wife, featured in a series of flashback scenes occurring on an elevated upstage space.
John B. Keane's "The Field" offers a disturbing commentary on the thin line between compassion and inhumanity. An elderly widow, played with touching simplicity by Rebecca Wackler, wishes to sell a four-acre parcel of land through a public auction. Barry Lynch and Travis Hammer are in excellent form as her current lessees: a brutish farmer aptly named Bull McCabe and his son. Along with a local barfly (Matt Foyer in a scene-stealing portrayal), they cook up a plan to rig the sale. An outsider, nicely underplayed by Dan Wolfe, arrives on the scene and disconcerting events affect the entire village. Marvelous performances are offered up by McKerrin Kelly as the pub owner's wife, Daniel Stewart as their teenage son, Shawn Savage as an upright police sergeant, and Grinnell Morris as a distressed clergyman.
Ultimately, whether seen in conjunction or as stand-alone productions, these West Coast premieres are superb examples of ensemble plays that are flawless in structure and execution.
Presented by Theatre Banshee at the Banshee 3435 W. Magnolia Blvd., Burbank. Oct. 22–Dec. 12 in rep. (818) 846-5323 or www.theatrebanshee.org.