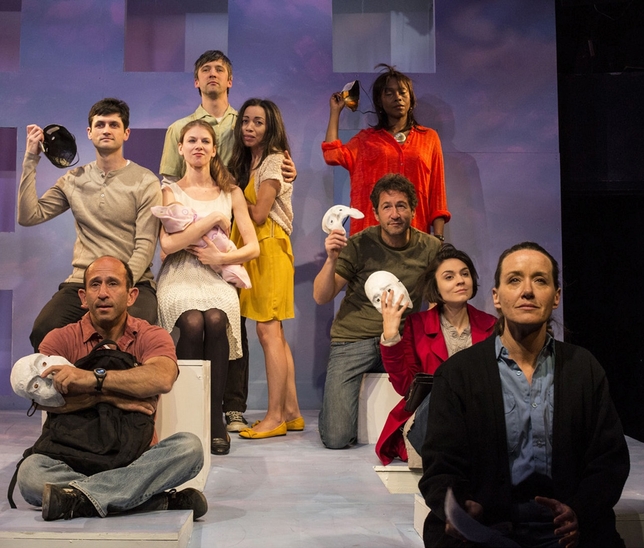 In "What May Fall," playwright Peter Gil-Sheridan trains his lens on nine people who witnessed or were affected by a man's senseless, mysterious death. Though none of these random Minnesotans knew the deceased, through them Gil-Sheridan examines the everyday fragility of the human condition. Things break, sometimes accidentally and often beyond repair, a revelation thrown into touching dramatic relief by director Mary Jo DuPrey and her Theatre of Note cast.
For scorecard purposes, there's Arthur (Brad C. Light), a window washer who was working alongside the deceased when he fell—or perhaps jumped—off a downtown concourse tower. The tragedy prompts Arthur to worry obsessively about the safety of his wife, Alice (Lauren Letherer), a bus driver, who he is now convinced is not safe. Before the fall, corporate executive Mack (Nicholas S. Williams) treats his beaten-down assistant Mercy (Christopher Neiman) like human roadkill and his own pregnant wife, Jo (Alana Deitze), not much better. Jo is largely estranged from her screw-up of a younger sister Shanie (Christine Breihan), who is friends with an obligation-free accordion player named Sky (Jason Denuszek), a busker who was performing on the street near one of Alice's stops. Rounding out the group are Salli (Michelle Hilyard), the dead man's niece, a hospital worker annoyed by Sky's act, and Ima (Inger Tudor), an artist friendly with Mercy who's looking to bring him out of the doldrums.
Under DuPrey's careful guidance, and with Letherer and Neiman leading the way, the actors smoothly untangle Gil-Sheridan's web of human flaws and fears. "What May Fall" is every bit an ensemble piece, but as the bus driver who is nearly smothered by her husband's sense of panic, Letherer—who also designed the costumes—is the production's anchor of sanity and fortitude. At the other end of the resilience spectrum is Mercy, a man Neiman plays as both a wimp and dangerously stuck. Williams takes Mack from pencil-pushing caricature to something far more human, and Dietze, as Mack's wife, Jo, terrified and conflicted over what to do about her baby, also does fine work.
Wearing white commedia masks designed by Cristina Bercovitz, the company sits like a Greek chorus on the series of empty white platforms and holes that constitutes Ellen Lenbergs' set, staring forward as life plays out in all of its messiness, surprise, and, yes, beauty. Costumer Letherer might have thrown in a few more heavy coats, hats, and gloves, though. This is a Minnesota winter, after all, and things can get mighty cold, especially when human behavior makes no sense.
Presented by and at Theatre of Note, 1517 N. Cahuenga Blvd., L.A. Feb. 22–March 23. (800) 838-3006, (323) 856-8611, www.brownpapertickets.com, or www.theatreofnote.com.
Critic's Score: B+