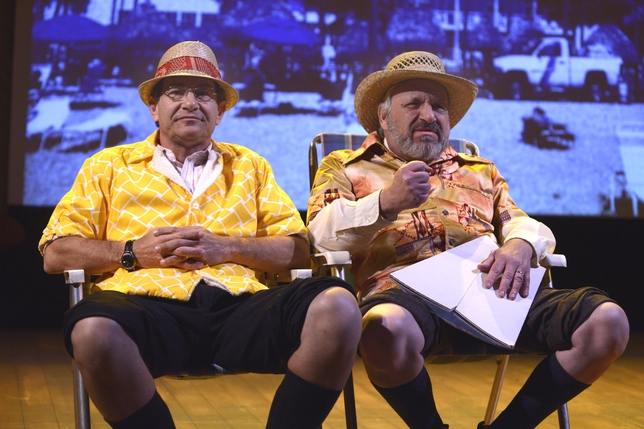 The revue genre can be tricky. With no narrative through line to move the show along, revues have to rely on variety in order to keep things interesting. Variety is exactly what's missing from "When You're in Love, the Whole World Is Jewish."
The semi-musical is a stage adaptation of Bob Booker's 1960s comedy albums about Jewish life. But the adaptation hasn't gone far enough beyond just making old jokes into staged skits. The 90-minute show gives us a litany of short sketches, about two minutes in length, each building toward a simple, often predictable punch line. Three or four songs are mixed in among the scenes, but there aren't enough of them to break the monotony.
In addition to its unvaried structure, the piece relies on repetitive, stereotypical humor. Jokes that might be funny the first time get repeated until they lose their charm. At least three scenes deal with a young person having to call a nagging Jewish mother over the phone. Multiple sketches revolve around the scandal of a Jewish person wanting to date, marry, or do business with someone who's surname is—gasp—O'Brien. The result is a live show that feels like an acted-out list of dozens of your uncle's favorite cheesy zingers.
Jason Alexander, of "Seinfeld" fame, directs, and his staging has a few well-thought-out moments. For example, the scene in which a snobby director of a social club and the Jewish man impersonating him sit side by side making the same swishy hand gestures is well staged for laughs. But in many scenes Alexander leaves the actors sitting still in their chairs or standing stiffly in lines, muting the show's energy and missing opportunities for physical humor.
In spite of the overly simplistic material, the ensemble of six does a commendable job keeping the evening lively. Each of the actors proves to have comic talent. Jay Brian Winnick stands out in his roles, with his clumsy cowboy and aspiring socialite especially noteworthy. Ellen Ratner shoulders the burden of playing every cranky old woman in the script, but she does so amusingly. Her scenes yukking it up with fellow gossipy woman Rena Strober have great timing and chemistry.
The five onstage musicians provide spirited scene-change music. Deborah Hurwitz's piano and vocals and Leo Chelyapov's clarinet are particularly fun.
For all of its tiresome humor, "When You're in Love, the Whole World Is Jewish" attracted a packed house and just extended its run. Original it's not, but audiences looking for a light evening of familiar jokes might find something enjoyable here.
Presented by Danny Gold and Billy Riback, in association with Greenway Arts Alliance, at the Greenway Court Theatre, 544 N. Fairfax Ave., L.A. Feb. 8–March 17. (323) 655-7679 or www.worldisjewishtheplay.com. Casting by Amy Lieberman.
Critics Score: C+