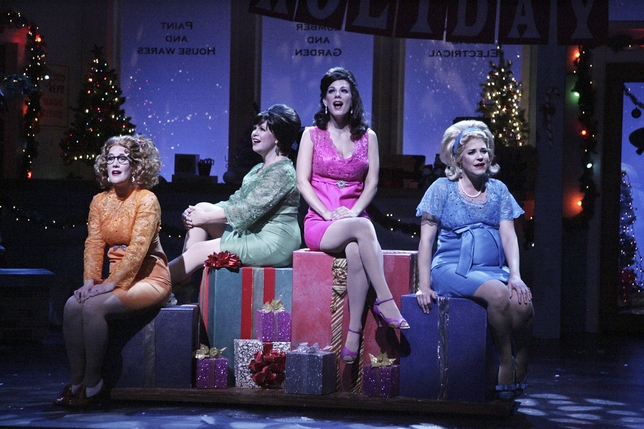 Producers of holiday-oriented jukebox musicals always face the challenge of finding ways to differentiate their show from the plethora of other similar shows that glut the theater market every December. That becomes doubly challenging when the show is a sequel or part of a jukebox franchise, as is Roger Bean's "Winter Wonderettes," a Christmastime version of "The Marvelous Wonderettes." The show is something of a female version of "Plaid Tidings," itself a sequel of a successful jukebox musical. While as formulaic and predictable as any such production, Bean's concoction has the edge in several respects: The show's musical content is entirely in the Christmas vein, a minimum of audience participation and the absence of any onstage musicians put the focus solidly on the Wonderettes, and Bean, functioning as director, keeps the backstory elements and between-song jokes to a minimum.
The sum total is a slickly professional blend of laughs and schmaltz whose weight is carried by Misty Cotton, Julia Dixon Jackson, Bets Malone, and Shannon Warne. As goodhearted Missy, gung-ho Betty Jean, ditsy Suzy, and sexy Cindy Lou, they do not disappoint. The show unfolds in 1968, 10 years after the original. Now young adults, the girls reunite and resurrect their "Wonderettes" act when Santa fails to show at Betty Jean's workplace holiday party, his absence a mere pretext for the girls to do their thing. Though the characters are now almost relentlessly cheerful, and their interactions are less fractious than in the original, they still tend to air their dirty laundry in front their audience. While the emphasis is on lighthearted G-rated entertainment, Cindy Lou's double entendres add spice, and the more noteworthy numbers tend to be those of a more serious, intimate tone, frequently in the form of solos. These include Warne's softly confessional handling of Stephen Flaherty and Lynn Ahrens' "All Those Christmas Clichés," Cotton's somewhat mock-sexy account of Donny Hathaway and Nadine Mckinnor's "This Christmas," Jackson's take on Frank Loesser's "What Are You Doing New Year's Eve?," and the quartet's rendition of the low-key 1941 ballad "Snowfall," by Claude and Ruth Thornhill.
Bean and musical director Brian Baker's vocal arrangements and Baker's musical arrangements are pleasing to the ear, while John Vaughan's dance steps create visual appeal that complements scenic designer Kevin Clowes' and costume designer Bobby Pearce's attractive, brightly colored contributions. Most of the 20 musical numbers are sprinkled liberally with shtick and bits of silly stage business, much of which revolves around the squeaky voice and simplistic happiness of Malone's naive Suzy. The performers are equals in terms of their prime vocals, dance skills, and light comic acting, the last serving to delineate their distinctive personae. The result is a freewheeling crowd pleaser that touches all the requisite bases for this type of genre show.
Presented by McCoy Rigby Entertainment at La Mirada Theatre for the Performing Arts, 14900 La Mirada Blvd., La Mirada. Dec. 7–30. (562) 944-9801, (714) 994-6310, or www.lamiradatheatre.com.
Critic's Score: A