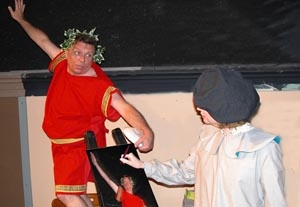 Moss Hart and George S. Kaufman's Pulitzer-winning play of 1936 is still as delightfully cornball as it was in its Broadway debut—and certain to go on for decades if people don't lose their abilities to recognize love and happiness in all its guises.
Grandpa Martin Vanderhof (Stan Kelly) quit his job 35 years ago and never looked back, reasoning that it wasn't fun anymore. He has never paid taxes because he isn't sure the government would be successful in putting them to good use. His daughter, Penny (Linda DeMetrick), who dabbles in playwriting and painting, and son-in-law, Paul (Phil Apoian), who builds fireworks in the basement with his assistant, Mr. De Pinna (Michael-Anthony Nozzi), are sublimely happy people. Also part of the family entourage are blithe-spirited daughter Essie (Betsy Reisz), who studies to be a ballerina even though she is terrible at it; her husband, Ed (Teddy Goldsmith), who plays the accordion and loves to print things; Rheba (Shamarrah E. Pates), the family cook with boyfriend Donald (James Fowler); and Mr. Kolenkhov (A. J. Russell), Essie's ballet teacher. Also filling out the cast are Jodi Harrison, Tanner Morse, and Steve Holland.
The hitch is that the one "normal" daughter in the family, Alice (Christina Diaz), has fallen in love with wealthy Tony Kirby (Justin Okin), and she is sure his parents (Richard Large, Dale Waddington Horowitz) will never understand or approve of her lovable but wacky family.
Director Sheldon Bull easily captures the anything-can-happen nature of the story, and his comedic touches carry us back to the days of screwball comedies. With brisk pacing, his surefooted ensemble cheerily carries off all of the improbable plot devices while delivering Kaufman and Hart's feel-good philosophy. It plays very well in this economic downturn as we redefine life's priorities.
Presented by and at the Sierra Madre Playhouse, 87 W. Sierra Madre Blvd., Sierra Madre.
April 24–June 6. Fri.–Sat., 8 p.m.; Sun., 2:30 p.m. (Dark Sun. 2:30 p.m. April 26.)
(626) 355-4318 or
www.sierramadreplayhouse.org
.