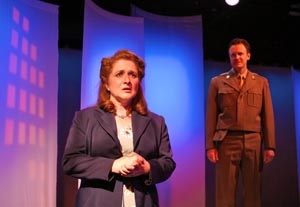 Based on real-life letters written by a pair of young lovers during World War II, this two-hander is best described as unremarkable. The epistolary form lacks dramatic heft, particularly as the letters are about mundane jobs, ordinary daily hardships, run-of-the-mill family conflicts, and repetitive declarations of hopes and dreams.
Isabel (Heather Chesley) whiles away her days in Trenton, N.J., while her sweetheart Nick (Rick Marcus) is stationed at various places in the U.S. and eventually shipped overseas. An independent young woman, Isabel is no 1940s good girl; she sells handbags for a living, fancies trips to New York, and isn't afraid to smoke and drink like a man.
The source material was given to playwright Christy Hall by a relative of Isabel's, so the play's point of view is mostly that of the girl left at home while her man goes off to war. The lack of information about Nick's experiences results in a flat character who repeatedly talks of his father's blue-collar work ethic and his devotion to Trenton.
The letter writing ceases on the few occasions when Nick and Isabel meet during his off-duty hours in Washington, D.C., and New York. They also spend an extended chunk of time together in North Carolina. The play works best in these scenes, when the couple connects in real time. Her Irish Catholicism and his Italian Protestantism create mildly interesting conflict, as do her single father's drunkenness and her grief over her mother's death. But in the end it all feels decidedly static. Lisa D. Katz's lighting adds a subtle sense of place throughout.
Presented by and at Actors Co-op, 1760 N. Gower St., Hollywood. Feb. 3–March 11. Fri. and Sat., 8 p.m.; Sun., 2:30 p.m. (Additional performance Sat., Feb. 18, 2:30 p.m.) (323) 462-8460 ext. 300 or www.actorsco-op.org.