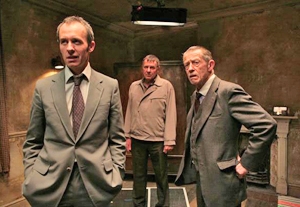 It's very early in 2010, but it's hard to imagine any movie in the next 12 months that will sport a more promising and accomplished ensemble than this stark British drama. Unfortunately, a terrific group of actors is largely wasted in a generally unpleasant and tedious exercise in revenge revolving around a husband spurned by his wife.
With very stagy direction by Malcolm Venville and a claustrophobic script by Louis Mellis and David Scinto that feels more Off-Broadway than movie, wonderful English actors are asked to do most of the heavy lifting. They do what they can, but the whole enterprise feels like an expletive-spewing wallow.
Colin Diamond (Ray Winstone), an overweight and rather miserable family man, is in crisis mode when he finds out his wife of 20 years, Liz (Joanne Whalley), is leaving him after engaging in a torrid affair with a much younger man, Loverboy (Melvil Poupaud).
He brutally attacks her and has a nervous breakdown. His four empathetic drinking buddies try to brighten the mood by suggesting they kidnap Loverboy and put him on "trial" in their own version of a rigged kangaroo court. What ensues is a night where Colin faces the moral dilemma of either killing the man he feels has done him wrong or letting the guy go back into the arms of his estranged wife. With his buds urging him on, Colin engages in a form of psychological torture not just on Loverboy but also on himself.
Winstone is, as usual, riveting to watch, and he dominates the proceedings. His four fellow actors equally good, each carving out a distinctly different personality. As Meredith, Ian McShane is a vindictive, embittered gay man. The group's patriarch, Old Man Peanut, is amusingly portrayed by John Hurt, who clearly is the most verbally bloodthirsty of the gang. Tom Wilkinson's nice-guy Archie lives with his mum and tries to be a good mediator, while Stephen Dillane as Mal is deceptively quiet until he lets his rage surface.
While Colin considers his next step, his pals try to bring out the worst in him so they can get back to doing what they do best: pub-crawling. Poupaud is given virtually nothing to do as Loverboy except play the victim, while Whalley registers nicely in a few intense scenes where she confronts her husband with her infidelity.
Although the film evokes such one-night theatrical ordeals as "Who's Afraid of Virginia Woolf?" and "The Boys in the Band," it ultimately deals with such sleazy characters that it's hard to work up any sympathy at all, especially for Colin, despite Winstone's best efforts. You are left wondering why his wife didn't leave him much, much earlier.
Genre: Drama. Written by: Louis Mellis and David Scinto.
Directed by: Malcolm Venville.
Starring: Ray Winstone, Ian McShane, John Hurt, Tom Wilkinson, Stephen Dillane, Joanne Whalley, Melvil Poupaud.