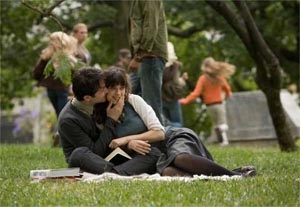 "This is a story of boy meets girl. But you should know, up front, this is not a love story," says the sardonic narrator. So begins (
500
)
Days of Summer
, a contemporary, hip, smart movie about dating, the male-female perspective, breaking up, and heartache. Tom (Joseph Gordon-Levitt), the boy, embarks on an office romance with Summer (Zooey Deschanel), an attractive young secretary new to town. Summer makes clear from the start that she's not looking for love. No matter, Tom falls for her anyway, and things seem to be looking up, until Summer, out of the blue, calls off their affair. Don't know about you, but I feel Tom's pain. And don't we all secretly share one of those heartbreak tales? Tom, as expected, takes Summer's rejection badly, sinking into a deep depression that seeps into his job as writer at a greeting-card company.
The two leads are lovely and sharp. Gordon-Levitt shows a sweet, vulnerable side—refreshing for a leading man. Deschanel, as the object of Tom's affection and infatuation, is a strong but elusive young woman whose motivations we never quite understand. Still, Summer is consistently likable, even when stomping on Tom's heart. For a movie about 20-something dating, there is an admirable maturity to the film and to the performances. It's also refreshing to see a romantic comedy told through the male perspective, in this case, the dumpee. In supporting roles, Geoffrey Arend provides comic relief as Tom's goofy co-worker and close friend, who has no business giving love advice. Clark Gregg, as Tom's well-meaning boss, is also well-cast.
There are wonderful moments in the film, in which first-time feature director Marc Webb pays homage to distinct cinematic genres—old fashioned musicals, animated Disney features, and French New Wave—to illustrate Tom's varying emotional states. Although such scenes are a hoot to watch, they never quite come together as a cohesive whole. Just like most relationships, (
500
)
Days of Summer
is far from perfect, but there's something very fresh about the film's storytelling that makes me want to see what Webb, a music video director before this, and screenwriters Scott Neustadter and Michael H. Weber will do next.
Genre: Romantic Comedy
Written by: Scott Neustadter and Michael H. Weber
Directed by: Marc Webb
Starring: Joseph Gordon-Levitt, Zooey Deschanel, Geoffrey Arend, Chloe Moretz, Matthew Gray Gubler, and Clark Gregg