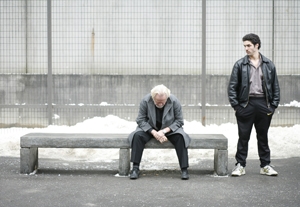 After winning the Grand Prix in Cannes, a slew of Cesar nominations in France, and the best foreign film prize at the BAFTAs, this Academy Award–nominated foreign language picture's global reputation precedes it. It's good to report that "A Prophet (Un prophète)" doesn't disappoint in any way. Director and co-writer Jacques Audiard has made a compelling drama that in some ways has the epic sweep of a "Godfather"-style crime drama, but it charts its own course—particularly in the gutsy casting of a group of largely unknown actors who deliver superb performances that are almost documentarylike in their authentic feel.
The story centers on Malik El Djebena (Tahar Rahim), a repeat offender who is sentenced to six years in prison. Coming into prison, this part-Arab, part-Corsican young man is, at first, not at all like the other convicts; he appears to be a more naive, sensitive sort. Since he comes from a French and an Arab upbringing—but estranged from the Arabs—he's caught in the middle but is soon recruited by the Corsican leader Cèsar (Niels Arestrup) to kill Reyeb (Hichem Yacoubi), a prisoner who is scheduled to testify against the mob. Malik longs to find a way out—which he does by learning how to read and teaching himself Corsican. He uses this knowledge to move into a leadership role as he learns the "business" a little better than anyone, even he, expected.
Although "A Prophet (Un prophète)" has gut-wrenching violence and is at times tough to take, it's never less than a fascinating look at the world behind the gray walls and concrete floors that define prison life. In this case we see all aspects of the "community" and how one young outsider can rise in the ranks of crime through pure determination and ingenuity. In some ways this movie, like another Sony Classics awards contender, could be called "An Education."
As Malik, Rahim is a find, with an expressive face and piercing eyes. We can't take our eyes off him; and even though he's new to film, he hits the ground running with a brilliant turn as a young man who realizes his ascent to power can only be through knowledge. Arestrup is also perfectly cast and wonderfully oily as the self-appointed leader of the pack. His scenes with Rahim crackle with cunning and tension. Also impressive in the well-chosen ensemble are Adel Bencherif as a friend who helps Malik on his forays outside and Yacoubi as the ill-fated Reyeb. 
Perfect for the art-house circuit, "A Prophet (Un prophète)" is a gritty crime drama that, most important, turns out to be a great character study, showing a side of Arabs we never get in films that often only see them cast as terrorists.
Genre: Drama.
Directed by: Jacques Audiard.
Written by: Jacque Audiard and Thomas Bidegain.
Starring:  Tahar Rahim, Niels Arestrup,  Adel Bencherif, Hichem Yacoubi, Reda Kateb.