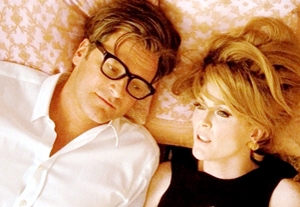 With "A Single Man," fashion icon Tom Ford shows he's not a one-trick pony. The film is his passion project, which he produced, directed, and adapted for the screen from the 1964 novel by Christopher Isherwood. Perhaps the reason no one has attempted to bring this book to the screen before is the nature of the story, essentially an inner monologue about a day viewed though the eyes of George, a 52-year-old British college professor, played in an admirably restrained tour de force performance by Colin Firth. That Ford, Firth, and company pull this off is remarkable for a film that could have gone way off course but never does.
George is struggling to deal with life after news of the sudden death of his partner, Jim (Matthew Goode), in a car accident. Chief among the events of the day are encounters with his best friend, Charley (Julianne Moore), an aging beauty he once had a brief fling with, and an infatuated young student, Kenny (Nicholas Hoult), who is coming to terms with his own emerging identity. What "A Single Man" is about more than anything else is the universal sense of isolation all of us can feel at different points in life and the idea that there is a way out if we can manage to appreciate the smaller things.
In addition to Ford's fluid direction and smart use of color to signal George's changing moods, "A Single Man" gets its true moments of grace from Firth, heartbreakingly good as a man trying to find his way out of the darkness. With spare dialogue, Firth makes us understand George in every way. The scene in which George learns of his lover's death is filled with richly detailed, nuanced acting; Ford's camera lingers on George's face as his world crumbles. Firth clearly gets George but lets his path to enlightenment unfold without hammering it home. This is acting at its finest.
Although she only about 15 minutes of screen time, Moore lets loose with a raucous, wonderfully entertaining turn as the effervescent Charley, who also is dealing with her own questionable future. In one long scene in particular, Moore and Firth display remarkable chemistry. As an aging beauty, Moore lets it all hang out with no vanity, and she nails it. Goode is fine, if underused in flashback sequences, while Hoult (all grown up since "About a Boy") delivers a knockout performance as a young man who befriends George and gives him a ray of hope.
But in the end, what's to be cherished are the haunting images of the "single man" of Firth in a singular performance to be cherished.
Genre: Drama.
Written and directed by: Tom Ford.
Starring: Colin Firth, Julianne Moore, Nicholas Hoult, Matthew Goode.