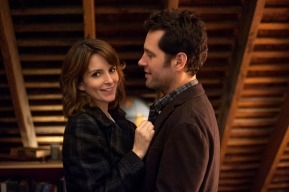 A lightweight romcom with more serious pretentions, "Admission" finds Fey as Princeton admissions counselor Portia, who finds herself connecting with a teenager who may or may not be the son she gave up for adoption while she herself was in college. Along the way, she fights with her mother (the always welcome Lily Tomlin), gets dumped by her longtime boyfriend (Michael Sheen), and falls for a Paul Rudd-like guy played by Paul Rudd in a performance that finds the actor stretching with all the flexibility of an old rubber band.
Paul Weitz directs Karen Croner's script with an abruptness that never makes the movie feel anything more than lightweight. Will Portia break all the rules to let her maybe-son into Princeton? Will she and Rudd's John be happy together? Will the movie ever feel like anything more than a distraction? You can probably guess the answers even before seeing the film.
The performances, such as they are, are perfectly adequate. Rudd long ago perfected the cocky-geeky role he plays here, a step backward from his performance in "This Is 40." And Fey proves that she's mostly comfortable outside of the surreal comedy of which she was ringmaster on "30 Rock," though her choice in film roles ("Baby Mama," "Date Night") reveals a troubling predilection for sappy sentiment overwhelming tart points of view.
"Admission" is one of those movies that are entertaining enough for the duration, but leave no lasting memories once the credits have rolled. Forgive us, Fey, but we expect more from you at this point.