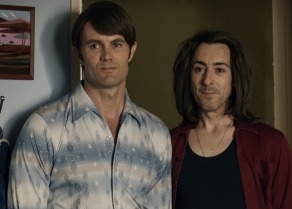 If there's any doubt as to Alan Cumming's mastery of the craft of acting, see him in "Any Day Now." As an unlikely character within an unlikelier plot, Cumming's skill is on a plane far above his fellow actors and the material itself.
Cumming plays Rudy Donatello, a two-bit drag performer in 1979 Los Angeles who starts a relationship with handsome closeted D.A. Paul (Garret Dillahunt). After Rudy's drug addict neighbor is sent to prison, he finds himself the accidental caretaker of her teen son, Marco (Isaac Leyva), who has Downs syndrome. A most improbable, but deeply loving family is formed. When Rudy and Paul fight for permanent custody of Marco, the insurmountable legal hostility they face is staggering in its callous—and frighteningly contemporary—homophobia.
Screenwriter George Arthur Bloom originally wrote the script in the '70s, and its issues-driven, overly sentimental courtroom drama could easily have been a Movie of the Week from the era. With a more modern rewrite from Travis Fine, who also directs, the film transcends its emotionally manipulative, with Cumming's tour de force performance as its pulsing heart.
A lesser actor would have glitzed up and camped up Rudy for easy laughs, but Cumming——witty, spontaneous, courageous, and moving—makes the character a mediocre drag queen performing in clubs because he lacks other options to survive. Rudy pieces together a life by clinging to shreds of dignity, never pandering for sympathy. But just underneath the jokes and shtick are layers of lonely suffering. Cumming's talent makes the movie feels like his monologue, with occasional interjections from other actors.
Dillahunt gives a committed, but textbook portrayal as the underwritten handsome, closeted attorney. Thankfully, he flexes his own acting chops during a gripping breakdown to publicly reveal that he is devotedly in love with another man. Isaac Leyva, who has Downs syndrome in real life, plays Marco with stoic, passive warmth that he indicates mostly without words.
For 2012 audiences, it's easy to accept Rudy, Paul, and Marco as the new normal. But "Any Day Now" undercuts our acceptance with the uneasy reminder that these characters exist in 1979, within many of our lifetimes, when the legal system could sink to surprising depths of injustice against gays. Views may have improved in pockets of America since then, but bigoted bias still runs deep through the nation today.
Critic's Score: A
Directed by Travis Fine
Casting by Anya Colloff
Starring Alan Cumming, Garret Dillahunt, Isaac Leyva