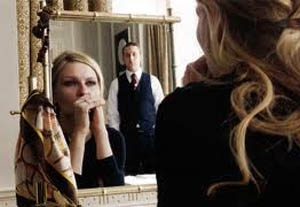 "All Good Things" is a fascinating character study, inspired by the strange and sinister life of Robert Durst, heir of the powerful Durst real estate family in New York. In 1982, Durst's wife, Kathie, disappeared under mysterious circumstances. Durst was suspected of her murder but never tried for it. Twenty years later, when the case was reopened, a friend of Durst who was slated to reveal incriminating information about Durst to the police was found brutally murdered. No one was charged. Not long thereafter, Durst was arrested for killing his neighbor. Durst never denied his savage deed but claimed the action was self-defense.
Writers Marc Smerling and Marcus Hinchey and director Andrew Jarecki (best known for his compelling documentary "Capturing the Friedmans") attempt to connect the dots and flesh out the characters. The movie, presented as docudrama, is clearly speculative and arguably problematic. For this viewer, however, the interpretations are wholly plausible. Also, it is an engrossing story and the performances are riveting.
Ryan Gosling brings to life the deeply troubled, chronically stoned David Marks (based on Durst), who seamlessly teeters between being a caring, sensitive human being and an emotionally thwarted man battling demons and fully capable of murder. Kirsten Dunst is every bit the working-class young woman seduced by Marks' charm and wealth, who over time grows fearful and then terrified of the man she married. Lily Rabe is memorable as Marks' aggressive and abrasive coke-snorting pal. Philip Baker Hall's portrayal of Marks' desperate neighbor is subtle and poignant. But Frank Langella walks off with the picture as the brutish patriarch and sordid businessman who is a committed and, in his own way, loving father. In lesser hands that character could easily have become a caricature.
As entertainment, the film works. Even the slightly sleazy look of the film, evoking a crime story re-enactment on television, aids in telling the story; the visual (cinematographer Michael Seresin) creates just the right backdrop for this squalid tale. Still, some might be bothered by the question: Is it fact or fiction? It's undoubtedly a gray area.
Genre: Drama
Directed by: Andrew Jarecki
Screenplay by: Marc Smerling, Marcus Hinchey
Starring: Ryan Gosling, Kirsten Dunst, Frank Langella.