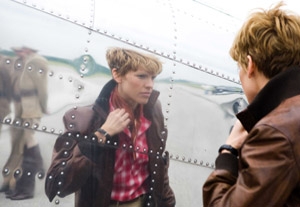 Old-fashioned in the best sense of the word, "Amelia" soars. Director Mira Nair has crafted a big, beautiful, and sweeping motion-picture biography about a true American legend, thanks in no small part to Hilary Swank, who is outstanding, transforming herself into the complex public and private Amelia Earhart with humanity and heart.
Earhart, who was never found after her plane disappeared in 1937, has surprisingly not been the subject of a whole lot Hollywood films outside of TV movies of the week, but the famed aviator is having a bit of resurgence this year. Amy Adams played her for laughs in this summer's "Night at the Museum: The Battle of the Smithsonian," and now Swank takes her on in the first major theatrical release that centers on the aviatrix's life.
Nair chooses to tell the story fairly straightforwardly, focusing on her initial aerial triumphs, her transformation into a major celebrity in the 1920s and '30s, her marriage to publishing magnate George Putnam (Richard Gere), and her clandestine love affair on the side with Gene Vidal (Ewan McGregor), father of Gore Vidal and a fellow flyer. Much of the emotional pull of the film comes from flashback sequences showing Amelia's early influences in her younger days and the pure love of flying that developed.
By focusing also on the downside of fame that came with her passion for planes, the film wryly comments on our celebrity culture, which apparently existed as much in the early 20th century as it does in this one. The smart script, by Ron Bass and Anna Hamilton Phelan, even goes so far as to question Earhart's motives and, in the process, allows Swank to develop a fully-thought-out three-dimensional portrait of this fascinating pioneer and adventurer.
Swank completely inhabits the role, vocally and visually, becoming Earhart physically and emotionally. The newsreel footage of the real Earhart incorporated into the film shows how well Swank has embodied her. As the men vying for Earhart's affections, Gere and McGregor are perfectly cast, and they help keep the story grounded by providing welcome romantic conflict. Best among the men, though, is Christopher Eccleston as Fred Noonan, her dedicated but alcoholic navigator. Their scenes together as she attempts to fly around the world are tense, exciting, and splendidly played by both actors. Notable in smaller roles are Mia Wasikowska as a young flyer and Broadway great Cherry Jones doing her best impression of first lady Eleanor Roosevelt.
Stuart Dryburgh's stunning photography and Gabriel Yared's beautiful score add much to this long overdue portrayal of one of the 20th century's most intriguing personalities. "Amelia" is grand entertainment in the best tradition of the movies.
Genre: Drama. Written by: Ron Bass and Anna Hamilton Phelan. Directed by: Mira Nair. Starring: Hilary Swank, Richard Gere, Ewan McGregor, Christopher Eccleston, Mia Wasikowska, Cherry Jones, Joe Anderson.