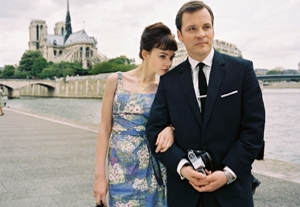 "An Education" is a wonderfully bittersweet coming-of-age story featuring a perfect performance by Carey Mulligan. Set in London in 1961, the film recounts what happens when Jenny (Mulligan), a top-notch but bored high school student, falls in love with David (Peter Sarsgaard), an urbane and charming older man who introduces her to chamber concerts, art auctions, late-night suppers, and sex. He is also a bit of a con artist and a Jew in a world still awash in anti-Semitism. In Jenny's eyes he is the romantic outsider, more so as he slyly seduces Jenny's reluctant parents—including her irascible, buffoonish dad (Alfred Molina), who is determined to see his daughter matriculated at Oxford and initially sees David as an obstacle. Conceived in broad comic strokes, Molina's character borders on caricature, yet the actor makes him plausible and, in the end, sympathetic.
Mulligan doesn't hit a false note, conveying the emotional life of a 17-year-old girl who has a very high IQ yet remains profoundly innocent. Sarsgaard is fine as a warm and loving guy who is also a bastard—and who, arguably, can't help it. As Jenny's mother, Cara Seymour is spot-on, playing a sheltered middle-class woman who, despite her better judgment, is aroused by David's continental manners and cosmopolitan style. Matthew Beard as Jenny's awkward high school beau is a delight, as are Rosamund Pike and Dominic Cooper as David's sleazy but not wholly rotten partners in deception.
Two performances that deserve special mention are Olivia Williams as Jenny's English teacher and Emma Thompson as the headmistress, feminists whose views on women and education are ahead of their time and, paradoxically, of it. Williams is the more compassionate and sadder of the two, evoking a woman who hasn't had much of a life and knows it. In contrast, Thompson's character seems to have little doubt about her choices. Indeed, she is a joyously steely and brittle figure whose opinions on many topics, especially Jews, are horrifying and quaint.
The film's nuanced evocation of a time and place is especially successful. Credit has to go to screenwriter Nick Hornby and director Lone Scherfig for gently capturing an era in transition while resisting the temptation to make elbow-nudging commentary.    
Genre: Drama
Written by: Nick Hornby (adapted from a memoir by Lynn Barber)
Directed by: Lone Scherfig
Starring: Carey Mulligan, Peter Sarsgaard, Alfred Molina, Cara Seymour, Olivia Williams, Emma Thompson, Dominic Cooper, Rosamund Pike