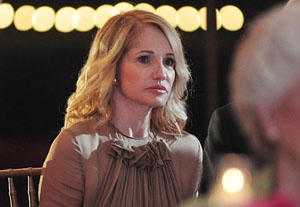 It's easy to see why a veteran cast the caliber of "Another Happy Day" was so attracted to the script written by 22-year-old Sam Levinson, who won the Waldo Salt Screenwriting Award at this year's Sundance Film Festival. But how does someone so young (he's 26 now) get it so right, particularly in writing for distressed older women and troubled young women? Whatever the answer, Levinson has provided career-high roles for the likes of Ellen Barkin, Ellen Burstyn, Demi Moore, and Kate Bosworth in this story of one woman trying to navigate the black hole of complete family dysfunction that rears its ugly head at a big weekend wedding. The power of the piece is helped immensely in the writing and some very accomplished directing by Levinson, the son of Oscar-winning director Barry Levinson ("Rain Man," "Diner").
Barkin, who also produced the picture, plays a sensitive soul named Lynn who comes to her parents' house for the wedding of her estranged son Dylan (Michael Nardelli). She drags along her other kids (Ezra Miller, Bosworth, Daniel Yelsky), who each have their own hang-ups, which get slowly revealed as the weekend progresses. But they are the least of her problems, as the family visit brings out the worst in her relationships with her cold and judgmental mother (Burstyn), ailing and aloof dad (George Kennedy), tacky sisters (Siobhan Fallon, Diana Scarwid), ex-husband (Thomas Hayden Church), and worst of all, his intensely rude and domineering second wife, played to the hilt by Moore in her best screen outing in years. Each actor gets the moment to shine in Levinson's tart, smart script, which almost plays like a bitter piece of theater but, thanks to his deft use of the camera, is wholly cinematic.
Someone please give Barkin Oscar and SAG nominations for her work here. It's subtle, knowing, and dead-on. You know people like Lynn. We all do, and Barkin nails it in style and substance. Equally fine is Burstyn, who has been slumming in TV but finally gets another film role worth her talents, and she runs with it. In one scene set at the kitchen table, shot in extreme close-up, she talks about her fear of losing her ailing husband. The moment is chilling, some of the finest acting you will see and a reminder this actor is one of our best. Miller, who can also be seen this winter as the sociopathic teen in "We Need to Talk About Kevin," is definitely a talent to watch, and Hayden Church, Kennedy (in a rare screen role), and Bosworth all have some terrific moments. Moore is a hoot.
"Another Happy Day" is a great showcase for actors, a rich feast, and one of the most riveting and brilliantly acted, written, and directed movies of the year.
Genre: Drama
Written by Sam Levinson
Directed by Sam Levinson
Starring Ellen Barkin, Ellen Burstyn, Demi Moore, Kate Bosworth, Thomas Hayden Church, Ezra Miller, George Kennedy