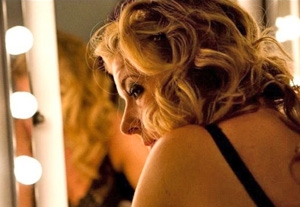 "Applause" is about, among other things, addictions. But after seeing it you may find it hard not to become addicted to the searing and potent work of its Danish star, the remarkable Paprika Steen. Under the direction of Martin Pieter Zandvliet, Steen lets loose with a bravura turn as a take-no-prisoners actor—whose alcoholic struggles and hopeful, newfound sobriety are played out on a public and private stage with great intensity. You know what you are in for when the film opens with Steen's character, Thea, portraying Martha in a stage production of "Who's Afraid of Virginia Woolf?"—which the filmmaker shot during Sheen's actual run of the play in Copenhagen before they began collaborating on this film. To see the correlation between reality and the Edward Albee dialogue is a perfect and ironic choice to demonstrate the problems that plague Thea.
The crux of Zandvliet's script (co-written with Anders Frithiof August) is the struggle Thea has putting her life back together and her efforts to rekindle a damaged relationship with her sons (one of them played quite effectively by her real-life son Otto Leonardo Steen Rieks). Of course, she also has to deal with her ex-husband (Michael Falch), who has his own set of problems and who has a particularly hard time dealing with Thea. She must also deal with a theater costume assistant and a one-night stand with another drinker who was part of her past, the part she has trouble even remembering. Particularly fine in the supporting cast is Sara-Marie Maltha, who serves as a stepmother to the boys and who, because she is a psychiatrist, can see right through Thea.
This is rough, gritty stuff, almost Dogme in style (much like the terrific and uncomfortable "The Celebration," which Steen was in more than a decade ago). The use of the Albee play is genius because it helps tear down the walls Thea puts up. We can see the confidence of this woman on stage when she has a well-defined character with her own addictions to hide behind, but Thea can't seem to perform even simple tasks in her own life. It perfectly juxtaposes a born actor's life against a raw exploration of a lost soul begging to be found.
"Applause" was briefly released in December to qualify Steen's performance for awards. Unfortunately, it seems unlikely that many voters caught it in time, a shame because this is definitely award-worthy fodder. Along with Steen, Falch, and Rieks, Shanti Roney deserves special mention as the guy she picks up, along with Noel Koch-Søfeldt, who plays her other son, Mattias. With a running time under 90 minutes, "Applause" flies by all too quickly. But if only for Steen's performance, it certainly deserves a lot of what the title suggests.
Genre: Drama
Written by: Martin Pieter Zandvliet, Anders Frithiof August
Directed by: Martin Pieter Zandvliet
Starring: Paprika Steen, Michael Falch, Sara-Marie Maltha, Malou Reymann, Shanti Roney.