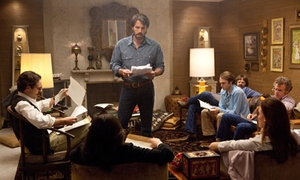 Ben Affleck continues to prove himself a top-notch craftsman of mainstream thrillers with "Argo," his third directorial effort. This dramatization of a 1979 CIA covert operation to free six Americans from Tehran during the Iranian Revolution is Affleck's most ambitious outing yet, and he's also quite empathetic starring as Tony Mendez, the man responsible for rescuing the hostages via a risky scheme requiring that he pretend they're part of a sci-fi film shoot. Starting with breezy laughs that skewer Hollywood, and building tension once Mendez puts his plan in motion, "Argo" emphasizes the magnificent improbability of its declassified true story. All one could ask is that the characters were as engaging, although an impressive cast (including Alan Arkin, Bryan Cranston, and John Goodman) lends some authority to underwritten roles that are in service of clockwork moviemaking.
Kevin James possesses a sweet, regular-guy charm that was absolutely wasted on juvenile family-friendly drivel such as "Paul Blart: Mall Cop" and "Zookeeper." "Here Comes the Boom" may be in the same genre, but it's got loads more heart. In this sports comedy, James plays Scott Voss, an unmotivated biology teacher who sheds his apathy to train to become a mixed martial-arts fighter in order to win enough money to save his high school's music program. The utterly forgettable "Boom" is little more than "Rocky" with a dash of "Dead Poets Society" and "Mr. Holland's Opus," but James gives this flimsy underdog story some soul, whether it's convincingly fighting in the cage or trading flirtatious barbs with a fellow teacher (Salma Hayek). For the first time, James has found a starring vehicle that puts his nonchalant goofiness to good use.
There are so few good modern-day horror movies that one runs the risk of overrating any that manage to rise above mere competency. But with that said, "Sinister" is a nifty, gripping paranormal thriller that stars Ethan Hawke as Ellison, a once-successful true-crime author who has moved his wife and two young children into a house whose previous occupants were killed under mysterious circumstances. Ellison thinks he may have another bestseller on his hands when he stumbles upon some revealing 8mm home movies tucked away in the attic, but while "Sinister" boasts decent scares, director Scott Derrickson more crucially does an excellent job of maintaining an air of stifling unease. It also helps that Hawke plays this struggling, egotistical writer with a generous amount of realism and empathy, which makes Ellison's obsession to get to the bottom of these murders all the more tragic.
Acclaimed Tony-nominated playwright Martin McDonagh made his feature film debut with "In Bruges," a comedy-thriller that nicely balanced dark humor and emotional resonance. If you enjoyed that film, then you're prepared for McDonagh's latest, "Seven Psychopaths," which once again impressively walks the line between scenes of extreme violence and moments of quiet grace. The story concerns Marty (Colin Farrell), an L.A. screenwriter struggling to write his latest script—which happens to be titled "Seven Psychopaths"—and his imbalanced buddy Billy (Sam Rockwell), who crosses a gangster (Woody Harrelson) by inadvertently stealing his beloved dog. If that sounds a little convoluted, it is. But "Seven Psychopaths" turns out to be that rare movie about the act of storytelling that's clever and confident as opposed to hopelessly smug. The cast are all in on McDonagh's sly comedic tone, with supporting players Christopher Walken and Tom Waits in particular doing their best work in a long while.
Should anyone possibly be concerned that two-time Emmy winner Aaron Paul ("Breaking Bad") is a one-trick pony, know that he's just as good in "Smashed," a small-scale but touching alcoholism drama. Paul plays Charlie, a writer who's happily married to Kate (Mary Elizabeth Winstead). Their bond is built on the many times they've gotten wasted together, but once Kate starts to have serious misgivings about their drinking, she decides she needs help getting sober—a decision Charlie doesn't support. On its surface, "Smashed" may seem like just another movie about addiction, but director James Ponsoldt examines the illness through the lens of a relationship, showing how drinking has in some ways been both the glue and the possible undoing of this loving couple. Winstead and Paul give wholly naturalistic performances that eschew the showiness such roles usually attract, and they're complemented by deft supporting turns from Nick Offerman, Megan Mullally, and Octavia Spencer.
The superb "Middle of Nowhere" won the directing award for writer-director Ava DuVernay at this year's Sundance Film Festival, and after seeing the film it's clear that the jury singled her out not because of stylistic filmmaking flourishes—the movie is visually muted—but because of her skill at establishing tone and working with actors. The drama focuses on Ruby (Emayatzy Corinealdi), a working-class nurse determined to stand by her husband (Omari Hardwick) while he serves an eight-year prison sentence. So begins a sensitive, intimate character study as we watch Ruby interact with her bitter mother (Lorraine Toussaint) and be gently courted by a flirtatious bus driver (David Oyelowo). If the film's revelations aren't particularly revelatory, "Middle of Nowhere" is nonetheless a model of how well-written roles and close-to-the-bone performances can create a world so vibrant that you realize you're seeing ordinary lives depicted in exceptional ways.