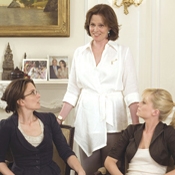 Hollywood has come up with many variations on the yin-yang formula; often it's about men (Jack Lemmon and Walter Matthau in The Odd Couple is a classic example), and occasionally it's about a man and a woman (Humphrey Bogart and Katharine Hepburn in The African Queen), but rarely is it about women. With the funny and engaging Baby Mama, that has been rectified, as former Saturday Night Live teammates Tina Fey and Amy Poehler once again prove opposites distract. It is co-produced by SNL executive producer Lorne Michaels, who has taken many of his show's stars down in flames with lame attempts at expanding his brand to the big screen (Superstar, It's Pat, The Ladies Man.) Not this time, though.
Fey, who has proven she is smarter than the average SNL alum with her Emmy-winning 30 Rock sitcom, plays 37-year-old single business executive Kate, who yearns for a child but has been told there is only a million-to-one chance she could ever conceive. She hooks up with a surrogacy agency run by Chaffee Bicknell (Sigourney Weaver), who finds the perfect person to carry Kate's baby: a low-rent white-trash working girl (Poehler) with a ne'er-do-well husband (Dax Shepard) who has come up with this scheme to make money. When Kate learns Poehler's Angie is indeed pregnant, she starts preparing for the blessed arrival. What she didn't expect was for her surrogate to show up on her doorstep with no place to live; in this odd couple, Angie's trailer-trash lifestyle clashes repeatedly with Kate's ordered existence.
As expected, Fey and Poehler seem entirely comfortable together onscreen; the comic timing they honed as co-anchors on SNL's faux newscast "Weekend Update" is in full force here. There are lots of laughs, and debuting director-writer Michael McCuller's screenplay never makes them seem forced, his two leads delivering the gags effortlessly. Fey in particular has a warm presence that is easy to identify with. Fey and Poehler have been surrounded with a sterling cast of comic pros, including Greg Kinnear as a too-nice-to-be-true juice-bar owner Fey becomes attracted to; Romany Malco as the helpful building doorman; and Weaver, hilarious as the pretentious surrogate agency head who despite being in her 50s has no problem having babies on her own and loves reminding her clients about it. Also standing out is Shepard, perfect as Angie's loser hubby, who regrets not coming up with the idea for iPods before Apple did. In a glorified cameo, Steve Martin has great scenes as Kate's boss, the ponytailed New Age owner of a chain of organic food markets.
Although the film's target seems to be women in their 20s and 30s, Baby Mama is that rare smart, entertaining comedy that ought to also appeal to enlightened guys and those who get dragged into the theatre by their significant others. The inspired pairing of Fey and Poehler makes these baby mamas worth watching, no matter which side of the stirrups you're on.
Genre: Comedy.
Written and directed by: Michael McCullers.
Starring: Tina Fey, Amy Poehler, Greg Kinnear, Dax Shepard, Romany Malco.