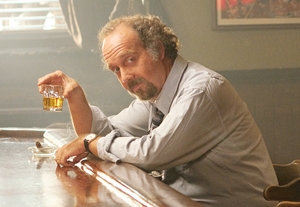 "Barney's Version" is a mildly engaging character study of a misanthropic (albeit endearing) cad as he stumbles through a picaresque life that boasts three failed marriages, assorted misfit pals, and various business ventures—including one that ultimately scores, a third-rate television company, dubbed appropriately enough Totally Unnecessary Productions. Along the way, he is suspected of murder and ultimately suffers from dementia. Within parameters, Barney Panofsky (wonderfully portrayed by Paul Giamatti) is a smart man, keenly aware of his own mediocrity but unable to control the destructive impulses that hurt him as much as anyone else.
Based on Mordecai Richler's brilliant final novel of the same title, the film captures some of the book's more sprawling, cinematic scenes—most notably an extravagant and joyous Jewish wedding in Montreal's Ritz-Carlton, topped by Barney getting plastered and declaring his love not for his new bride but for a wedding guest whom he has just met. Some of the central relationships are also brought to life onscreen and many of the performances are flawless.
Besides evoking a character who is a mass of contradictions, Giamatti subtly ages, over time his body becoming heavier, his walk more lumbering, and his eyes sad, burdened, and finally vacant. Dustin Hoffman is stellar as Barney's aging, roguish dad, a retired cop and widower who, with charm to spare, always manages to be politically incorrect. Rosamund Pike is convincing as the educated, refined, loyal third wife. Though Rachelle Lefevre has only a small part playing Barney's first wife, she does a nice enough job as a flaky, promiscuous free spirit and lost soul. It's a thankless, clichéd role, but not nearly as stereotypic or thankless as Barney's second wife—the shrill, dithering, demanding, acquisitive, Jewish American princess bravely tackled by Minnie Driver. There's nothing she could do with such a role, and it's not her fault.
Arguably, the image of Jews in general and Jewish women in particular is off-putting in this film. It seems telling that writer Michael Konyves and director Richard J. Lewis morphed the novel's Jewish heroine Miriam Greenberg into a classic WASP named Miriam Grant (Pike). It's as if they themselves don't believe—or suspect their audience can't—in the existence of an elegant, appealing Jewish woman who would be a loving wife. More than offensive, it's just so stale.

Genre: Drama, Written by: Michael Konyves, Directed by: Richard J. Lewis, Starring: Paul Giamatti, Rosamund Pike, Dustin Hoffman, Scott Speedman, Minnie Driver, Rachelle Lefevre, Bruce Greenwood.