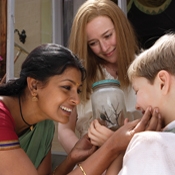 Set around the time of the tumultuous exit of the British from India, Before the Rains is a surprisingly everyday romantic melodrama about a plantation owner (Linus Roache) and his servant girl (Nandita Das), whose affair gets them in trouble with the girl's tribe. Though a few handfuls of supporting players and extras are hastily arranged for perspective on the times, the story is disappointingly independent of its setting. Before the Rains actually seems all the more trite whenever the movie reminds us that other people of the time and place were preparing to be beaten for their rights.
A potentially winning cast has little to do in the tale of Henry Moores (Roache) and his married housemaid, Sajani (Das), who are already engaged in a heated affair when we meet them. Henry is about to expand his tea farming into the nearby mountains in hopes of branching into spices, despite rumblings around the country by angry Indians unhappy with their colonial situation. A couple of boys spy the pair at their hiding place in the countryside, and the tribal suspicions that follow lead first to panic and then to tragedy.
Das is a popular actor in her country, known for a socially aware approach to her craft, but she is given little opportunity to shine here as a lovestruck girl trapped between two lives. Sajani is a victim of opposing cultures, but it's a fate she can't see and one that's not fully explored by the film, making for a flat, uninteresting character and a dead end for the audience. Roache's Henry has a little more nuance, conveying more uncertainty about his feelings for Sajani, especially in relation to his wife (Jennifer Ehle), their young son, and their fortunes in India. Yet the movie abandons the ambiguity for much more obvious characters, such as Henry's obligingly humble servant, the idealistic T.K. (Rahul Bose), and Sajani's cruel husband.
There are other interesting observations to be found, some about Indian tribal custom and some about the attitudes of the Brits. Director Santosh Sivan, a noted Indian filmmaker, frames his subjects with equal amounts of respect, but Before the Rains abandons them like a callous lover. There are shining moments of substance in the movie, but by the end they are washed away by a monsoon of banality.
Genre: Drama
Directed by: Santosh Sivan
Written by: Cathy Rabin
Starring: Linus Roache, Nandita Das, Rahul Bose, Jennifer Ehle