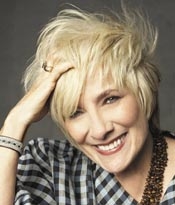 Let's take a look at Betty Buckley's quandary. You can understand her large fan base wanting to hear "Memory" (T. S. Eliot-Trevor Nunn-Andrew Lloyd Webber) whenever they can. The singer never does it the same way twice, and yet it's always so beautifully produced it amounts to its own mini-musical. On the other hand, you can understand why Buckley doesn't want to include it every darn time.
Well, for her current Feinstein's at Loews Regency engagement, she's found a compromise. At the 8 or 8:30 p.m. shows in the three-week gig (now entering its second week), she does a "Memory"-less set called Then and Now that celebrates simultaneously released CDs: Quintessence and Betty Buckley 1967. In the Broadway Request show she does late nights Friday and Saturday, she gives "Memory" her astonishing all. There's no worry, of course, that "Memory" won't be among the slips of paper she pulls out of a hat. Certainly, should that extremely unlikely situation arise, she'd sing it anyway.
So she's solved one problem, but, unfortunately, there's a deeper conundrum. It's an easy-to-spot dilemma if you take in Then and Now and Broadway Request back to back. During the early set, the silver-throated Buckley shows off her 18-year collaboration with jazz pianist-genius arranger Kenny Werner. (Christian Jacob was at the keyboard for the first week; Werner's playing the remainder of the stay.) And there's no denying the brilliance of the tone poems the pair produce at the top of their combined form. The most successful are the threnody on the triumph of death they make of Paul McCartney's exquisite "Blackbird" and the jazz rhapsody into which they transform the Dimitri Tiomkin-Ned Washington "Wild Is the Wind." The introductory stories Buckley spins about her history with these tunes are also warm and welcoming.
But what Buckley only begins to acknowledge in a brief explanation of her lifelong devotion to jazz is that many of the patrons paying top dollar resist this side of her performing proclivities. Yes, Werner is an endlessly creative jazz stylist, but his miasmic chord approach to the songs Buckley chooses to warble — a handful of them from a 1967 tape she made when she was19 — isn't for all tastes. Buckley will even tell you that Stephen Sondheim has complained of the Werner treatments, and it's a good bet that were Richard Rodgers alive to hear what's been wrought with his and Oscar Hammerstein II's "The Surrey With the Fringe on Top," he'd be filing for an injunction.
As a result, the early-show audience mostly receives Buckley with polite enthusiasm, only rising to something more for quieter, less liberally treated inclusions like the Tom Jones-Harvey Schmidt "They Were You." On the other hand, pandemonium all but busts out when Buckley — one of the great natural-born singing actors of our time — reprises theatre songs she's made hers since her 1776 debut. Telling tales about shows she's been in and how she got into them and then segueing into, say, a mesmerizing "Whoever You Are, I Love You" (Hal David-Burt Bacharach), Buckley even elicits applause in the middle of songs. When she's triumphantly completed them, she's cheered. "Memory"? Memorable, of course.
So Buckley's got a true poser. From the outside, it's fascinating to watch. From the inside, it must be endlessly anxiety-provoking.
Presented by and at Feinstein's at Loews Regency,
540 Park Ave., NYC.
Feb. 5-24. Mon.-Thu., Sun., 8:30 p.m.; Fri. and Sat., 8 and 10 p.m. (No performances Mon., Feb. 11; Thu., Feb. 21; Fri., Feb. 22.)
(212) 339-4095 or www.feinsteinsattheregency.com.