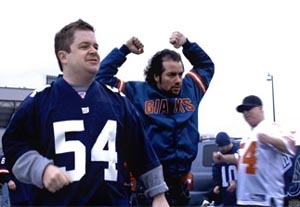 To use the football parlance this film excels in, Patton Oswalt runs it all the way into the end zone with a brutally honest and brilliant performance that stands as one of the year's best. Yes, he's that good. Of course, it helps that the screenplay is written and directed by Robert Siegel, the man who delivered a similar gift last year to Mickey Rourke with his screenplay for "The Wrestler." A riveting, funny, and complex character study of a guy who lives for the New York Giants, "Big Fan" stands to be this year's "The Wrestler," and that's a good thing. It's a gritty black comedy shot in the same edgy style (apparently debuting director Siegel learned a lot from "Wrestler" helmer Darren Aronofsky) but it exists primarily as a performance piece—in this case, almost a one-man show.
Oswalt (whose previous screen peak was as the voice of the rat in "Ratatouille") plays Paul Aufiero, one of those pudgy, lonely superfans, a 35-year-old Staten Island parking attendant who lives at home with his mother (Marcia Jean Kurtz) and who is devoted to his beloved team, often calling into a local sports radio show to give his opinions on the latest game and players and to rant against another mystery caller (Michael Rappaport), an überfan of the rival Philadelphia Eagles. Though Paul's family thinks he is wasting his life, he sees it another way. When he and his slacker best friend, Sal (Kevin Corrigan), spot superstar player Quantrell Bishop (Jonathan Hamm, not to be confused with "Mad Men" star Jon Hamm) at a gas station, they decide to follow their hero all the way into a strip club where they shadow him until things go terribly wrong. What follows virtually destroys Paul's life and calls everything he has lived for into question.
Although at times "Big Fan" feels like it may be drifting into scary "Taxi Driver" territory, it takes surprising turns and succeeds in being a strong and poignant portrait of an obsessed but basically good man who takes things to the extreme. Oswalt never overplays his hand here and is completely believable. There are thousands of Pauls out there whose lives become unbalanced and unhinged when they get caught up in the singular pursuit of one thing. Oswalt's—and the film's—crowning achievement is that we understand and have great empathy for this guy. Although the other actors are in Oswalt's shadow, there is particularly fine work from Kurtz as his frustrated and overbearing mother and Rappaport as the Philly fan. Corrigan nicely underplays the best-friend role and makes a neat impression.
Although its low budget shows, "Big Fan" could figure into year-end awards consideration if its tiny distributor, First Independent Pictures, manages to keep it alive. Certainly Oswalt's acting can stand up to any seen so far this year.
Genre: Comedy/Drama
Written and directed by: Robert Siegel
Starring: Patton Oswalt, Marcia Jean Kurtz, Michael Rappaport, Jonathan Hamm, Kevin Corrigan