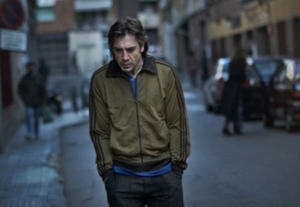 Whether he's playing an icy, menacing psychopath in "No Country for Old Men" or Julia Roberts' genial love interest in "Eat Pray Love," Javier Bardem's performances are always multilayered and stellar. Similarly, in Alexandro González Iñárritu's "Biutiful," Bardem is a riveting presence. Here he portrays the terminally ill, middle-aged Uxbal, trying to care for his children while scrambling to survive on the outskirts of society. The film is set in Barcelona's seedy underworld overflowing with illegal immigrants living in hideous conditions and engaged in small-time cons. Bardem's Uxbal is a man of many colors. He exploits the immigrants whom he paradoxically cares for and often protects from the police.
Indeed, the acting all around is impressive—not least Marciel Alvarez as Uxbal's bipolar wife and, most notably, Diaryatou Daff depicting the simple yet ultimately profound Igé, who subtly becomes the film's centerpiece. Igé is simultaneously a calming, rational presence and an earth mother. Daff's appearance in "Biutiful" marks her maiden voyage as an actor; she is a Senegalese immigrant who was "discovered" in a Barcelona salon where she worked as a barber. Alvarez is a well-known Argentine theater actor who is making her major-film debut.
Some of the scenes are master classes in acting. There is Uxbal brutally confronting his promiscuous, estranged wife for abusing their son, while she moves from outright denial to self-defense to teary raging admission. Deep love and tremendous sexual chemistry underlie the recriminations between the two combatants. The relationship between Uxbal and Igé is gentler but in its own way fraught with ambivalence. He desperately needs her to take care of his children, while she is determined to return to her native country with her own child. Still, she loves the dying man's kids almost as much as her own and cannot abandon them.
But the performances can't compensate for the relentless bleakness of the story that makes watching this film difficult. The pretentions are an added liability. "Biutiful" attempts to explore such lofty themes as mortality, spirituality, redemption, and the meaning of "fatherhood"—with a capital "F"—while presenting a diverse social tapestry. González Iñárritu often brings together cross-cultural socioeconomic worlds in his films (Amores Perros," "21 Grams," "Babel). There is nothing wrong with it per se, except when it's self-conscious. Which it is here.
Genre: Drama
Written by: Alejandro González Iñárritu, Armando Bo, Nicolás Giacobone
Directed by: Alejandro González Iñárritu
Starring: Javier Bardem, Marciel Alvarez, Eduard Fernández, Diaryatou Daff, Cheng Tai Shen.