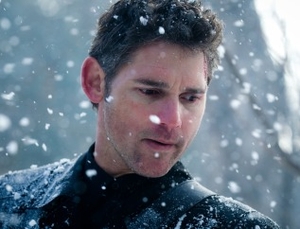 "Deadfall" is by turns intense and ridiculous—a needlessly gory thriller tightly wrapped in dual family dramas. The first family includes the codependent and vaguely incestuous relationship between siblings Addison (Eric Bana) and Liza (Olivia Wilde), on the run after a massive cash heist. A brutal (and unexplained) car accident leaves them stranded in the mid-American wildness during a winter storm. For reasons unclear, Addison leaves his sister to freeze as he sets off for the Canadian border.
The second family has Jay (Charlie Hunnam), an Olympic boxer released from prison, driving home to reconcile with his parents (Kris Kristofferson and Sissy Spacek) for Thanksgiving. When Jay encounters abandoned Liza by the roadside, the two families become intertwined in a jigsaw puzzle plot where contrivances fall into improbable place.
Zach Dean's aims for pastoral character drama, but veers into gory slasher-flick tastelessness. In a particularly gruesome scene, Addison seals the gushing nub of his sliced-off finger by scalding it on a snowmobile's blazing hot engine. One guy's head is smashed through a windshield, another's neck gets wrapped in barbed wire, a knife slices through an open palm, and there are enough cumulative bullet wounds to form several new constellations. The staggering body count keeps ticking higher and higher.
The film is curiously damning upon all its male caretakers, who are so relentlessly abusive that one can picture Dean typing the story from his therapist's couch. A bumbling local sheriff (Treat Williams) publicly ridicules his dedicated deputy daughter (Kate Mara) with sexist insults, forbidding her from joining a manhunt because she might "need to change her tampon." This unnecessary subplot is merely unsavory and distracting.
Director Stefan Ruzowitzky, however, excellently paces this thriller like a pressured steam engine on the verge of exploding, transforming a generic crime drama into a moody, modern film noir.
The actors carefully peel back smoldering layers. Bana reminds audiences that he is a fine dramatic actor, staying planted in coolly studied naturalism even as his character unravels into a potboiler murderous psychotic. Wilde, as the sister Bana subjugates, credibly moves from dependent innocent to defiant woman.
Hunnam brings a survivor's instinct to a soul simmering in hurt and anger, trying to control his boxer's impulse to punch first, think later. Kristofferson has long mastered the role of a grumbling father hindered by his own stubbornness. And Spacek is a dollop of deliciously classy acting as the calm emotional core of a family seeking reconciliation.
Tight direction and smooth acting bring "Deadfall" to vibrant life, regardless of the script's venture into bathos and forced confessionals. The team deserves material that more fully rises to their talents.
Critic's Score: B-
Directed by Stefan Ruzowitzky
Casting by Randi Hiller
Starring Eric Bana, Olivia Wilde, Charlie Hunnam