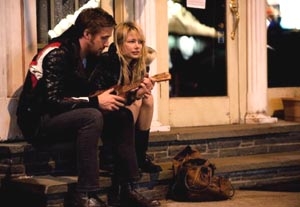 It is no wonder Michelle Williams held out hope for seven years that she could star in "Blue Valentine"—the long-in-the-works, very personal film about a marriage in free-fall, from director Derek Cianfrance. This is the kind of role that it is catnip for actors, and Williams and co-star Ryan Gosling burn up the screen with devastating intensity. This is raw, riveting drama that looks like it has been lived rather than acted.
Cianfrance has been toying with this idea for 12 years, and it appears to be somewhat autobiographical, this story about the disintegration of a relationship. Interweaving the present with flashbacks from its beginning six years earlier, the director leaves no emotion untouched in the dissection of a union that comes apart at the seams despite the best intentions of a couple who, as the old adage goes, can't seem to live together but can't seem to be apart. Earlier sequences might have been more properly called just "Valentine," as the courtship has a carefree, loose, loopy quality that defines the pair's instant attraction, even to the point of a late-night ukulele serenade of "You Always Hurt the One You Love"—perfectly fitting, considering where they are headed. For Williams' character, Cindy, Dean (Gosling) is heaven-sent, particularly as she is dealing with a current fling with high school wrestling star Bobby (Mike Vogel) that goes very bad when she gets pregnant. Nevertheless, Dean and Cindy eventually marry and have a sweet child, Frankie (Faith Wladyka), who naturally becomes the center of their lives. Alcohol, unemployment, and maladies intervene, causing the couple to slowly drift apart, particularly from Cindy's vantage point.
Although unwarranted considering what passes for "R" ratings these days, the MPAA's initial NC-17 rating (now overturned) spells out the toxic nature of sex scenes in both eras of their relationship, but they are only graphic in what you think you see. Nudity is kept to a minimum, with Cianfrance's camera much more intimately probing the faces of this doomed couple. A last-ditch sojourn to a cheap theme motel tells us everything in the story of Dean and Cindy. The disconnect they feel—and we do too—is heartbreaking to watch. It's an acting challenge both stars meet with ferocious, fierce, and naked power. For the present-day scenes, Williams put on 30 pounds, presenting Cindy as someone who has let go of her marriage and herself. It's minimalist acting, the kind she displayed in "Wendy and Lucy," up close and personal to the point of gut-wrenching emotion and audience sympathy that is completely earned. Gosling never ceases to astound with his ability to walk right on the edge but never go over. With Dean, a nice guy who can't seem to be the man his wife wants him to be, he captures all aspects from playful suitor to loving father to frustrated lover, all adding up to a man quickly losing control of everything he has left.
"Blue Valentine" might be hard to watch at times, but with two of the best performances of this—or any—year, it is a must see.

Genre: Drama

Written by: Derek Cianfrance, Joey Curtis, Cami Delavigne

Directed by: Derek Cianfrance

Starring: Ryan Gosling, Michelle Williams, Faith Wladyka, Mike Vogel, John Doman.