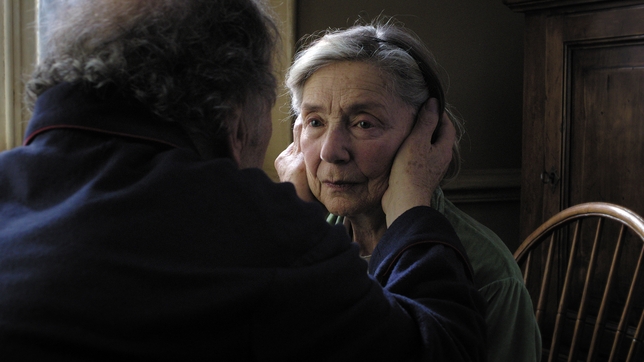 "Amour," in typical Michael Haneke fashion, is rigorous, relentless, and disturbing. But in atypical Haneke fashion, there is also a throbbing heartbeat beneath the placid surface, as married octogenarians Georges and Anne stare down approaching death hand in hand.
One would be hard pressed to find another film that takes such a clear-eyed look at mortality and old age, and certainly finding one made in America would be even more difficult. "Amour" is a peculiarly French film in its willingness to talk frankly about the indignities of age—Haneke shies away from nothing—but also in its casting. Screen icons Jean-Louis Trintignant ("A Man and a Woman") and Emmanuelle Riva ("Hiroshima Mon Amour") aren't just peerless performers; they also provide a sense of pentimento. Art-house audiences aren't just watching Anne and Georges confront the ravages of time with an admirable wryness; we are also seeing two legendary beauties of French cinema reveal themselves as they are now without a shred of vanity. Who, in American cinema, could possibly portray these characters with the same amount of realism and verve? More to the point, what female actor in American cinema has allowed herself to age in the same way—as in, naturally—as Riva has?
Those off-screen layers only add more depth and texture to Haneke's plotless film. Still in love, Georges and Anne remain active, engaged people until Anne suffers a stroke and is confined to a wheelchair. What follows is her inexorable decline as Georges watches helplessly.
Haneke and Riva spare us nothing. As Anne's health fails and Georges tries to carry on as before, to the shock and disappointment of their daughter (Isabelle Hupert, who conveys a lifetime of jealousy and disappointment in her wrapped-up-in-themselves parents in just a few scenes), Riva slips from chic to ghastly. Her face seems to collapse in on itself, her hair is a tangle, and her eyes glaze over as she retreats further and further into herself. But there is a dignity to her undignified new way of life; as Georges aids her in dressing, changes her diaper, and exercises her paralyzed leg, the love between the two precludes embarrassment on both their parts and ours.
In case it isn't clear, "Amour" is never an easy movie to watch; there's no respite for Anne and Georges or for us. But the rewards are ample for anyone unwilling to look away from the mortality of Anne and Georges—and, by extension, their own.
Critic's Score: A+
Directed by Michael Haneke
Casting by Kris Portier de Bellair
Starring Jean-Louis Trintignant, Emmanuelle Riva, Isabelle Huppert