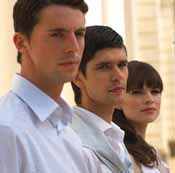 Pity the poor artists who decide to turn Evelyn Waugh's monumental, scopic novel into a two-hour film. The novel imprisons its readers in its haze of inordinate wealth and soul-grinding unhappiness, spanning the two World Wars and languorously following in spellbinding detail the thwarted romances and religious ambivalences of three main characters. Granada Television managed to film a fairly scrupulous adaptation — as most would agree — in an 11-hour miniseries (starring Jeremy Irons, Anthony Andrews, Diana Quick, Claire Bloom, Laurence Olivier, and John Gielgud). Could it be done successfully these days in a two-hour version?
In Jeremy Brock and Andrew Davies' adaptation, directed by Julian Jarrold, the invisible thread that is the novel's exquisite main metaphor is briefly mentioned, but there's no twitch upon it. The religious fervor — or compulsion, depending upon your beliefs — overshadows not much. The love between various characters is given a gloss at best, a shove to the wayside at worst. Instead, the protagonist, Charles Ryder (Matthew Goode), is said to be not as attracted to the Flyte siblings — Sebastian and Julia (Ben Whishaw and Hayley Atwell) — as he is to their 端berhome, Brideshead (filmed, as in the Granada series, at Castle Howard).
So what's left for Goode to work with in creating Charles? Heart-shredding longing for days in Arcadia is replaced by mild acquisitiveness. Doe-eyed adoration for the Flytes is replaced by unremarkable chumminess. Sebastian's homosexuality is highly marked, yet there's no indication Charles feels reciprocally. It's unclear why Whishaw was either directed to or made the choice to create Sebastian as not the pathos-inspiring golden boy to be idolized by all but rather as a mildly distasteful creature who cannot end well. As Julia, Atwell is blandly magnetic, and no more. And unfortunately, though the years are seen to pass by, Jarrold never shows the young characters' aging. Michael Gambon makes the Flyte patriarch, Lord Marchmain, interesting and interested in the scenes in Venice; but dying at Brideshead, he's a generic old-man-on-his-deathbed character, not helped by the film's omission of the family backstory that would have made meaningful Marchmain's struggles to breathe.
Only Emma Thompson rises above the misbegotten concept to bring an enigmatic aura to the matriarchal Lady Marchmain. Although Thompson is beloved for her work in comedies, some might say she fares even better in her more dramatic roles, here as the gray-haired self-appointed saint with a massive iron fist. In a thoughtful portrayal, the actor draws a gauzy curtain over any of Lady Marchmain's self-doubts. Where Claire Bloom was chillingly self-assured inside and out, Thompson reveals glimmers of regret and denial that make Lady Marchmain's actions the direct result of obsession with that ever so twitchable thread.
Genre: Drama.
Directed by: Julian Jarrold.
Written by: Jeremy Brock and Andrew Davies.
Starring: Hayley Atwell, Michael Gambon, Matthew Goode, Emma Thompson, Ben Whishaw.