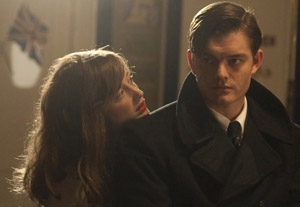 Making his feature directing debut, Rowan Joffe had his work cut out for him in adapting "Brighton Rock." Perhaps it's unfair, but comparisons are inevitable when a filmmaker re-conceives an iconic film that was in turn based on a classic novel. Still, one assumes he chose the piece because he admires the original and simultaneously feels that his adaptation will cast it in a new, arguably improved light.
Some of the changes work, most notably Joffe's updating. Graham Greene's 1938 crime novel and John Boulting's gritty 1947 film (co-written by Greene) are set in downtrodden, Depression-era Brighton, England; Joffe transports the action to 1964. His Brighton has glitz and glam, though pockets of poverty still exist. As hems rise and the menacing mods and rockers make their presence felt, it's a society on the cusp of a seismic social shift. In 1938 and 1964, the brutal thugs and gangland warfare are rooted in their respective cultures. The new time frame violates neither the narrative nor the relationships that Greene conceived.
"Brighton Rock" tells the story of Pinkie (Sam Riley), a driven teenage gangster determined to establish himself in Brighton's criminal underbelly. His ambitions are thwarted when Rose (Andrea Riseborough), a waitress and true innocent, inadvertently finds evidence that links Pinkie to a revenge killing. Because wives can't testify against their husbands, Pinkie marries Rose, who truly loves him. But he is repelled by her and growing increasingly paranoid about his own cronies, whom he considers potential threats. Meanwhile, Ida (Helen Mirren), an older, earthy woman, is hell-bent on seeing Pinkie arrested and saving Rose.
Pinkie is the embodiment of twisted evil and a complex figure. If the character is not riveting, the whole film is skewed—and that's the central problem here. Riley brings to life Pinkie's deceptive and cruel nature but fails to evoke the sinister, vacant core that is Pinkie. Part of what made Richard Attenborough's Pinkie in the earlier film so memorably sinister was his vacant baby face and small stature, physical traits that paradoxically underscored his malignant psyche. Both films, however, fall short in fully capturing how odious Pinkie finds sex and his conflicted Catholicism—attributes that define him and make him so compelling in the novel.
Riseborough is convincing as the stunningly naïve Rose. She is every bit the cloistered girl; indeed, in Joffe's spin she is also emotionally battered by her father, who views her as nothing more than saleable merchandise. The reinterpretation is plausible and makes Rose's attraction for Pinkie understandable. In part, she perceives him as a way out. As the sexually liberated and kindhearted Ida, Mirren is great fun to watch. Though she offers an Ida who is more dignified and has a higher I.Q. than Hermione Baddeley's brazen hussy, she fulfills the demands of her role and its function in the narrative.
Visually, the film is impressive, thanks to John Mathieson's cinematography and James Merifield's production design, each of which creates a time, place, and mood. But the vivid setting cannot compensate for the fundamental plot holes and especially the diffuse focus. Sometimes it's a crime story; other times it's a love story. And while the gist of what's happening is generally clear, the particulars are often elusive, such as who's getting killed by whom and why.
A modest proposal: Read the book.
Genre: Drama
Written and directed by Rowan Joffe
Starring Sam Riley, Andrea Riseborough, Helen Mirren, John Hurt, Andy Serkis