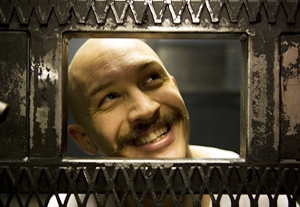 "I'm someone that nobody wants to fuck with. I am Charlie Bronson. I am Britain's most famous violent prisoner," says actor Tom Hardy, giving one of the most captivating performances this year as real-life convict Michael Peterson, who later in his career took on the moniker Charles Bronson in homage to the action star. Bronson's legendary brawls with inmates and guards landed him in an insane asylum at one point, after maximum-security prison staffers were unable to contain his unpredictable and overzealous rage.
Hardy's riveting portrayal is not to be missed by fellow actors. Even if you don't catch this in the theater, rent it when it's released on DVD. I defy you to not be mesmerized by Hardy. He brings to the role a hard-as-nails resolve, a delectable menace, dark humor, playfulness, and a touch of vulnerability. He will make a great villain in a blockbuster movie; perhaps we'll see that soon, as Christopher Nolan recently cast him in the filmmaker's next project, "Inception."
Too bad the performance is stuck in a film that, while captivating at times, drags viewers through scene after scene of brutal depictions of violence that will end up turning off most audience members halfway through. If it's possible, imagine "A Clockwork Orange" on a two-day crystal-meth bender. And just as Stanley Kubrick did, writer–director Nicolas Winding Refn sets many of the violent scenes in "Bronson" to classical and other genres of music. But Refn also puts his own stamp on "Bronson" and employs innovative storytelling and visual devices, my favorite being Hardy relaying his character's life in a fictitious one-man show before a packed audience, as the film cuts to the progressive destruction that Bronson inflicts on himself and others who get in his way.
As for the rest of the cast, they are all fine but overshadowed by the power of Hardy. I particularly liked James Lance as Bronson's enamored prison art teacher, who thinks he's discovered brilliance in his unlikely pupil only to be woefully disappointed.
See this film if you want to study a masterful performance, but keep in mind that with this performance comes heavy-duty scenes of graphic violence.
Genre: Drama
Written by: Brock Norman Brock and Nicolas Winding Refn
Directed by: Nicolas Winding Refn
Starring: Tom Hardy, Matt King, Amanda Burton, James Lance