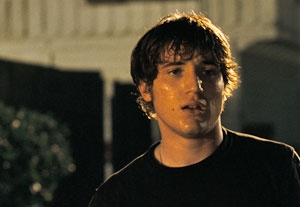 College is widely lauded as a time for self-discovery and new experiences. The form these discoveries and experiences take is rarely that of theft, blackmail, and murder. However, the desired typical collegiate experience is turned upside down with violent speed and unrelenting force in the dark thriller "Brotherhood." Unlike most films centering on university Greek life—films of either brash comedy or gory horror—Will Canon's "Brotherhood" is solid, fast-paced, psychologically driven action from start to finish.
The film begins with a traditional hazing practice for fraternity Sigma Zeta Chi: the faux holdup of a convenience store. The prank goes horribly wrong, however, and soon one of the "rushers" is fighting for his life as his "brothers" fight over what to do about it. Over a tense night fraught with arguments, fighting, kidnapping, and torture, the fraternity brothers learn what the bonds of fraternity mean.
The story is original, taking the oft-portrayed theme of collegiate partying and Greek life into territory it rarely ventures near: that of the action thriller. "Brotherhood" strikes the viewer more like the "Bourne" series than like "Animal House," the intensity of the film escalating from the first still with nary a pause. There is violence, tiptoeing along the line of gratuitous but maintaining a delicate, if sometimes hard-to-watch, balance. The film is not purely testosterone-driven dramatic spectacle, as the characters are multidimensional figures with diverse and complicated motives for their sometimes ill-fated actions.
The emotional heart of the film, if one can be pinpointed, is Sigma Zeta Chi hopeful Adam Buckley, played as the boy next door by Trevor Morgan. Buckley's voice seems far and above the most reasonable among all the characters, most of whom are so flustered by the events taking place before them that their reactions serve only to fuel the disarray. Morgan's performance is strong and believable; his is the character each of us hopes we would be if ever faced with the ordeals presented in "Brotherhood."
The rest of the cast on the whole performs well, individually and in conjunction with one another. Jon Foster and Arlen Escarpeta stand out as particularly strong players, each proving himself fully capable of dealing in physical and emotional intensity. Canon, who also co-wrote the film, demonstrates facility for directing, creating a high-energy world of real-life choices and consequences. "Brotherhood" delves deeply into the dark side of Greek life in a tale that, though thankfully not a true story, maintains its integrity with effectively real characters.

Genre: Drama/action
Written by: Will Canon, Doug Simon
Directed by: Will Canon
Starring: Jon Foster, Trevor Morgan, Arlen Escarpeta.