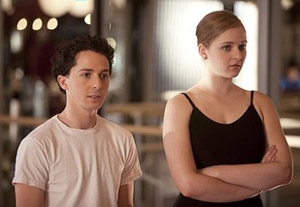 This week on "Bunheads," Michelle goes to the theater (Oh so meta!), Fanny explorers her own lingering commitment phobia, and Boo becomes the spineless mean girl she was clearly born to be...
In which Fanny gets a nice boyfriend...
This week, Fanny's back, and the only immediate evidence is the random man standing in the kitchen making breakfast. Michelle gets the kinky gist of what's happening, and makes a joke about sharing kinky breakfast with the man and Fanny – the mental image of which is enough to make the whole universe give up on sex altogether. In the studio, the bunheads wax on about Ginger Rogers until Sasha shows up to do what she does best: be mean and dance. She soft-shoes with a dancer prodigy boy we've never met before named Jordan. He just seems annoying. Fanny then announces the coming of "show season" wherein the buns will spend a lot of time dancing at car wash openings and random picnics. When Fanny sees Sasha's tan lines (sun exposure is against Fanny's draconian rules, don't you know...) she boots Sasha from the coveted Ginger Rogers dance, choosing Boo to do it instead.
In which Michelle gets invited to a f****** play...
Michelle and Fanny catch up in the garden, where Fanny remarks that Michelle has let things go to seed while she was gone – in the garden and elsewhere. Then she asks Michelle to go to L.A. with her to see a play. Yes, "seeing a play in L.A." is kind of an oxymoron, but go with us for the sake of this poor episode. The play is called "Blank Up, It's Time," the "blank" being a dirty word that can't be printed on the programs. For everyone who's slow in the head -- or lives in real-life L.A.-- this is a thing that really happened in a faraway country called Broadway, and that's why it's allegedly funny. When Michelle drops hints about Michael – the man in the kitchen - Fanny coolly admits that they're "keeping it casual." (Insert sage commentary here about how "Bunheads" has not one, but two commitment-phobic heroines. Fanny and Michelle! So the same! Except for the eyebrows!) At school, the boring buns – Baby Megan Hilty and The Dullard – scare Boo into thinking that Sasha hates her. She probably does, but Sasha hates everyone, including herself, so no surprise there. Then we see Michelle and Fanny entering the theater with booze, because they've grasped the obvious fact that new plays are best enjoyed while drunk. Back at Oyster Bar, Boo waits on Sasha and brings her a brownie-like treat in hopes of appeasing her alleged anger. Sasha's cool – and admits that she hates the sun.
In which the world may or may not be ready for a Kenny Ortega joke...
At intermission, Fanny and Michelle are hating this play. They have no idea what's going on. Like every other theater director and producer on earth, Michelle yearns for singing Mormons. Then Michelle has to pee and she namedrops Kenny Ortega, as one does when they have a captive audience who might actually know who he is. At any rate, Michelle misses the beginning of the second act and ends up standing at the back talking with the play's anxiety-ridden director, who knows it sucks. When she returns to Fanny, Fanny insinuates that Michelle should sleep with him. Michelle balks, and so do we, because frankly, Sutton Foster is hot and can do way better, and we much preferred the densely muscled, crystal-wearing, tanned hippie surfer guy from Oyster Bar.
In which it's apparently fun to jeer at a perfectly nice boy...
Boo turns up at the studio to learn that she's not doing the Ginger Rogers dance with annoying Jordan. When he found out that Sasha got canned, he peaced out, and was replaced by the very enthusiastic, very vertically challenged Carl, who's ecstatic. We suspect that "Bunheads" is making fun of Carl for his shortness and his Jewishness, but we're not really finding it in our hearts to chortle along, because he seems kind of sweet and he looks a little like Baby Casey Affleck – never a bad combination. Later, he runs into Boo at Oyster Bar, talks her ear off, all but professes his love, and helps her serve a mean customer. Whether she's being subliminally influenced by her dunderheaded friends, or she's just brain dead, we're not sure, but she's not very nice to Carl. Back at home, Michelle breaks in on Fanny and Michael watching baseball and gets a major case of the warm-and-fuzzies. See, even fully uncommitted relationships can be fun!
In which we're still eating breakfast...
Fanny and Michelle dish about Michael over breakfast. In the studio, Carl and Boo work on their dance, but not before Carl brings Boo her fave beverage – celery tonic – a factoid he's squirreled away since the two of them were eight. Back at breakfast, the director calls Michelle and does two things: Thanks her for fixing his play and asks her out. We have no idea in what time-lapse parallel universe Michelle gave him either her number or pointers on his crappy play, but apparently that happened and we're not to ask why or how. Also, we're trying not to attach any symbolism to the fact that men come and go on this show like it's a French whorehouse.
In which there are several curiously timed meltdowns...
Michelle goes back down to L.A. to see the bad play and winds up in bed with the director, at the Roosevelt Hotel, no less. We always thought this was a pretty fashionable and glamorous place, but the barfy-hued duvet insinuates otherwise. The conversation flows freely with the not-hot-enough-for-Sutton-Foster director, until Michelle realizes that he's the first man she slept with since Hubble. This triggers Michelle's eight-minute, out-of-nowhere meltdown about the various complexities of her domestic situation, wherein we learn that Sutton Foster is a weirdly unconvincing crier and should just stick to getting tangled up in chairs and talking really fast. The director does his best to play it cool, but despite our pleading prayers to a God that may or may not exist, the sobbing and the apologies simply will not stop. Finally, we mercifully cut to Fanny and Michael doing dishes. Following an apparent change of heart that likely happened in that aforementioned unseen parallel universe, Fanny asks Michael to stick around a little longer this time. He agrees. Back in the studio, Boo is done up in a marvelous hue of Pepto Bismol for her Ginger Rogers dress rehearsal. Baby Megan Hilty and The Dullard waste no time being HORRIBLY MEAN to Carl, which does not endear either of them to our otherwise accepting and open hearts. The worst part? Boo kind of goes along with it! That's when Sasha shows up with blue hair, slathered in lot of hooker-ish makeup – fashion choices that don't exactly jive with pointe shows or a Reese Witherspoon-y chin. She tells off a shocked Fanny. Fanny tells her off right back, and kicks her out of the studio. She commands Boo and Carl to dance. It's... awkward enough to last until next week...
Laura Motta and Aileen McKenna blog as Lucky and The Mick on their Broadway-themed blog of insanity, The Craptacular.